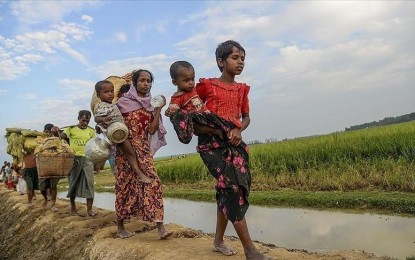 ANKARA – Over 1.5 million people have been displaced in past years, with more than five million children in dire need of humanitarian aid in Myanmar, the United Nations said Tuesday or two years after the military takeover.
On Feb. 1, 2021, Aung San Suu Kyi's government was deposed in a military coup after her National League for Democracy party won national elections in November 2020.
According to UNICEF, the number of displaced people has risen to more than 1.5 million in the last two years.
"Over 1.5 million people in Myanmar have been displaced, with children forced to flee their homes and communities," UNICEF tweeted, adding that more than five million children are in desperate need of humanitarian assistance.
Despite outcry from the international community and human rights groups, displacement of locals continues in some areas amid ongoing junta regime operations against the opponents.
Last week, around 20,000 civilians were displaced in Karen State during a battle between local resistance forces and the military near Kawkareik Township, local Myanmar Now news outlet reported.
According to a recent UN report, at least 2,890 people lost their lives at the hands of the military and those working with them, while 767 were initially taken into custody since the military took power.
Amnesty International in its report released last November stated that the number of displaced people exceeded over 1.4 million, while 12,839 are detained in inhumane conditions.
On the country's National Day last November, the military junta released 5,744 prisoners under amnesty, including former British Ambassador Vicky Bowman and her husband Ko Htein Lin, Japanese filmmaker Toru Kubota, and Sean Turnell, an Australian economist who served as an adviser to Suu Kyi when she was in government.
Other detainees, however, including Suu Kyi and other senior political leaders from her party, were not granted amnesty. (Anadolu)