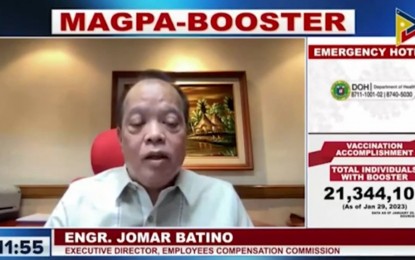 MANILA – The Employees' Compensation Commission (ECC) on Wednesday said it has lowered the penalty being imposed on companies that fail to remit contributions to the Social Security System (SSS) and Government Service Insurance Systems (GSIS).
The measure is stipulated in ECC Board Resolution No. 22-12-36.
"The Commission resolves to amend Rule V, Section 3 (4) of the Amended Rules on Employees' Compensation," the resolution read.
It added that for any EC contribution not paid to the SSS or to the GSIS as herein prescribed, the delinquent employer shall pay the unremitted or delinquent contribution, plus a penalty thereon of 6 percent per annum.
In a Laging Handa presser, ECC executive director Jomar Batino said the move seeks to help companies that are starting to recover from the impact of the coronavirus pandemic.
"Because of the pandemic, several companies have struggled, with some just starting to recover. The ECC believes it is better to align its condonation policies to those of SSS by lowering the penalty," Batino added.
Prior to the issuance of the new resolution, a delinquent employer is ordered to pay a penalty of 2 percent per month from the date the contribution falls due until paid, apart from the contribution.
The ECC is an attached agency of the Department of Labor and Employment. (PNA)