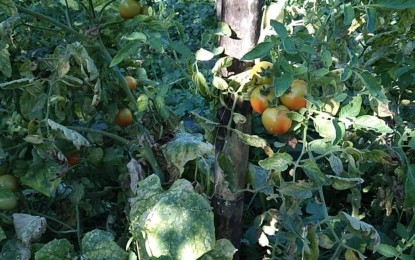 CITY OF SAN FERNANDO, Pampanga – The Department of Agriculture in Central Luzon (DA-3) has assisted tomato farmers in Lubao town, this province, in selling their fresh produce to buyers directly from farms at reasonable prices.
The DA, through its Agribusiness and Marketing Assistance Division (AMAD), has stepped in to find buyers for farmers who have been struggling to sell their tomato produce to consumers.
DA Senior Agriculturist Carmencita Nogoy said on Wednesday they visited tomato farms in Lubao upon hearing that the farm gate price of tomatoes in the area is only PHP6 per kilo for the good ones and PHP3 for the class C.
"We, in the market development section of DA AMAD Region III did not waste time to visit and talk with the farmer leaders of the area and totoo po pala ang mga narinig namin (it is indeed true what we've earlier heard)," Nogoy said in an interview.
To ease the burden of the farmers, she said they started to market link the tomato farmers with the buyers.
She said the first order was two metric tons of tomatoes at a cost that tripled the prevailing farm gate price in the area.
Aside from being directly linked with potential buyers, Nogoy said they are exploring other ways to help the farmers such as by selling the tomatoes through the "Kadiwa on Wheels."
Nogoy said the mobile market aims not just to help farmers market their crops but also to offer cheaper locally produced and manufactured products to the public.
"More linkages to come and more tomatoes will be sold at our Kadiwa on Wheels so our 'kabalens' (provincemates) can buy fresh and at a lesser price than those sold in the market and supermarkets," she added.
Based on the consolidated weekly retail price monitoring of commodities in the region from Jan. 23-27, the prevailing price of tomatoes was from as low as PHP20 to as high as PHP100 per kilo. (PNA)