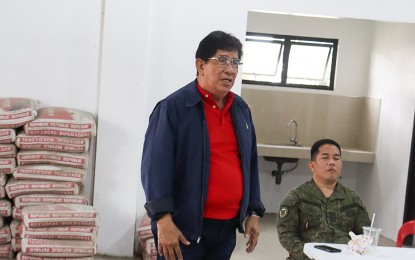 SAN FRANCISCO, Quezon – Classes are suspended in all elementary and secondary schools in 11 remote barangays of this town until Feb. 3 due to ongoing hot pursuit operations of government forces against New People's Army (NPA) rebels.
Memorandum Circular No. 2023-03A issued by Mayor Romulo Edaño on Wednesday canceled classes in all elementary and secondary schools in the villages of Butanguiad, Casay, Don Juan Vercelos, Huyon-huyon, Inabuan, Mabunga, Nasalaan, Pagsangahan, Pugon, Silongin and Sto. Niño from Feb. 1-3.
Edaño, in his memorandum, said "this is to ensure the safety of residents after the rebel group had an encounter with the combined military and police forces, who conducted a hot pursuit operation in the said areas last Sunday."
Last Jan. 27, an encounter ensued between military and rebel groups in the adjacent town of San Andres where a soldier was hurt and three NPA rebels were killed.
In a report, the Police Regional Office 4A identified the fatalities as members of the Platon Reymark, Sub-Regional Military Area 4B of the Southern Tagalog Regional Party Committee of the Communist Party of the Philippines-New People's Army-National Democratic Front.
The insurgents fled to different directions and the 11 barangays in San Francisco covered by the memorandum are included in the military's areas of pursuit operations.
To mitigate the fear gripping the residents, the local government ordered the class suspension.
"This is what we decided to do to maintain the safety of the students and the citizens of the barangays based on the report and recommendation that the Philippine Army gave us regarding the ongoing encounter between the military and the rebels," Edaño said in a phone interview.
He added that the decisions and actions relative to the internal security situation shall be announced later in the week depending on the situation report given by the Armed Forces of the Philippines and Philippine National Police.
The mayor also requested Department of Education (DepEd) officials to contact the local government through the Municipal Disaster Risk Reduction and Management Office (MDRRMO) and the Municipal Social Welfare and Development Office (MSWDO) for necessary assistance.
Byron Aloysius Cuerdo, Principal I, of Casay National High School in Barangay Casay, said he was glad that Edaño declared the class suspension to avoid further trauma among the schoolchildren and their families. Upon learning of the mayor's order, he immediately sent home his teachers who live in other places like Tayabas town and Lucena City.
"We don't want the teachers and students to experience further tension. There are sightings of the armed rebel groups and they may act unpredictably," Cuerdo told the PNA in a phone interview.
However, the school official said residents in the barangays were pacified by the visibility of soldiers. "Although some families are now evacuating to safer areas, like those who came from Sitio Panday where gunfire was heard," he added. (PNA)