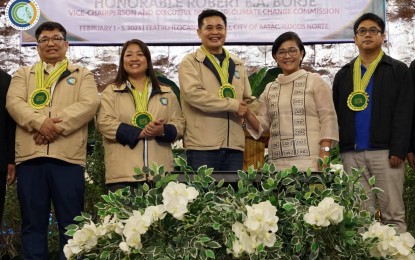 MANILA – The Climate Change Commission (CCC) on Wednesday sought cooperation and collaboration with the local research community to ensure the country's success in the fight against climate change.
During the 34th Regional Symposium on Research and Development Highlights in Batac City, Ilocos Norte province, CCC vice chairperson and executive director Robert Borje acknowledged the importance of scientific research in addressing climate change.
Borje said research and development played a vital role in strengthening the local communities' capacity to implement climate change adaptation and mitigation plans.
"Science is key for our collective success. The 34th Regional Symposium on Research and Development Highlights is critical to the advancement of home-grown and developed science to drive decision-makers to make climate change policy decisions that matter, up to the barangay (vilage) level," he said.
"To our local researchers present here today, we need you. The country needs you. And most importantly, our shared future needs you," he added.
Borje also pledged that the CCC will continue building and strengthening partnerships with the academe, private sector, development partners and relevant stakeholders such as scientists and innovators to deliver and implement more climate actions "with tangible results."
Borje, accompanied by CCC Commissioners Rachel Anne Herrera and Albert dela Cruz Sr., graced the opening ceremony of the annual symposium organized by the Mariano Marcos State University (MMSU) and the Ilocos Agriculture, Aquatic Resources Research and Development Consortium.
The CCC delegation was welcomed by Dr. Shirley Agrupis, MMSU president, and Dr. Nathaniel Alibuyog, MMSU vice chairperson for research and extension, and member of the CCC's National panel of technical experts.
Herera and Dela Cruz also expressed their support for MMSU's strong and successful implementation of programs related to environmental sustainability and climate action.
This, as Herrera acknowledged the Ilocos region's efforts in implementing climate change adaptation and mitigation measures to develop "resilient and adaptive" communities.
"This vision, together with the tools of science, will help us prepare for climate change as a region and as a climate vulnerable developing country," she said.
Considering that climate change is a "big problem," Dela Cruz said scientific research and development would serve as the foundation to have a "sustainable food security" in the country.
With the theme, "Pagkain sa Bansa ay Siguraduhin, Likas-yamang Produksyon ng Agrikultura't Pangisdaan ay Isulong Natin Ayon sa Pagbabago ng Panahon," the annual symposium, which will be held from Feb. 1 to 3, will focus on the presentation and recognition of research and development technologies and breakthroughs.
The three-day event will be attended by representatives from the national government agencies, academic and scientific communities, local government units, the private sector, and non-governmental organizations at the MMSU's Teatro Ilocandia in Batac.
The MMSU, in collaboration with the CCC, also organized the Local Planners Forum to discuss the development and enhancement of Local Climate Change Action Plans (LCCAPs) and access to the People's Survival Fund (PSF).
The forum will be attended by planning officers, environment and natural resources officers and disaster risk reduction and management officers from 24 local government units in Ilocos Norte. (PNA)