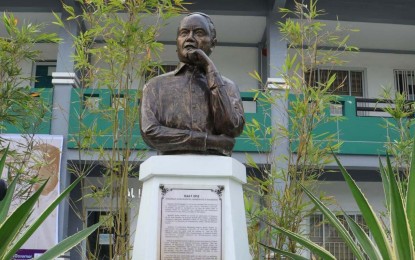 CITY OF MALOLOS, Bulacan – Malacañang has declared Feb. 3 as a special non-working day in this province in celebration of the 96th birth anniversary of Gat Blas F. Ople, known as the "Father of Philippine Labor Code" and "Father of Overseas Filipino Workers."
Proclamation No. 128 penned by Executive Secretary Lucas Bersamin, states that "it is but fitting and proper that the people of Bulacan be given full opportunity to celebrate and participate in the occasion with appropriate ceremonies."
With the theme, "Gat Blas F. Ople: Dakilang Bulakenyo, Bayani ng Manggagawang Pilipino," the provincial government has lined up activities for the occasion to be attended by Ople's daughter, Department of Migrant Workers Secretary Susan Ople.
Ople, together with Governor Daniel Fernando and Vice Governor Alexis Castro and other local officials, will lead a wreath-laying activity before the monument of "Ka Blas" at the provincial capital compound here.
Also, a job fair will be spearheaded by the Provincial Youth, Sports and Public Employment Service Office (PYSPESO), in cooperation with the Department of Labor and Employment (DOLE) at The Pavilion of the Hiyas ng Bulacan Convention Center.
Likewise, a medical mission will be conducted, initiated by the Department of Migrant Workers in collaboration with Damayan sa Barangay.
The governor said Ka Blas was one of the most illustrious statesmen in the country and his outstanding leadership and public service will forever be etched in the hearts and minds of not only Bulakenyos, but all Filipinos.
"Our hero Gat Blas Ople has consistently improved the lives of the Filipinos. I urge the youth to always remember his heroism and make his life and contributions an inspiration in giving service to the country," Fernando said in a statement.
Ka Blas was also a journalist and was considered one of the youngest columnists.
Moreover, he established the National Manpower and Youth Council (now the Technical Education and Skills Development Authority) to carry out training programs for skilled workers.
He also held a few high-ranking positions in the government such as Senate President from 1999 to 2000 and Secretary of Foreign Affairs from 2002 until his death in 2003. (PNA)