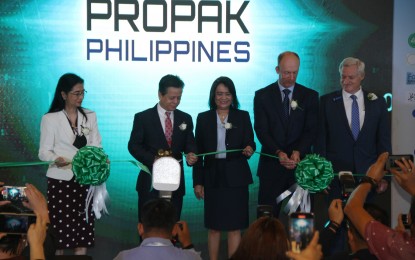 MANILA – The World Packaging Organization (WPO) is in talks with the Packaging Institute of the Philippines (PIP) to promote circular economy processes in the domestic packaging industry.
On the sidelines of ProPak Philippines at the World Trade Center in Pasay City Wednesday, WPO president Pierre Pienaar told reporters that implementing the extended producer responsibility (EPR) will encourage packaging manufacturers to make sustainable products.
Pienaar said packaging manufacturers are responsible for collecting and recycling their products after being disposed by consumers, and factories should maximize the use of the products through recycling in an EPR.
"So those that make it must bear the cost of insuring and it comes back. And this has been implemented a number of years ago in Europe. So the EU (European Union) is doing it very well. And the countries like Germany, Austria and the Netherlands, they've been doing it for nearly 30 years, and it's worked. And if it works there, we see no reason why it cannot work in other parts of the world," he said.
Pienaar said WPO helped Indonesia in implementing the EPR system last year.
"And we believe, the WPO believes, if that can be successful in that nation, then there's no reason why many other countries within Southeast Asia can follow a similar plan because we know it works," he added.
Pienaar said packaging companies across the globe have seen the need to introduce and promote initiatives to create sustainable products and industry.
However, he said government's support through policy will accelerate the adoption of a circular economy in the packaging industry.
Meanwhile, ProPak Philippines, an international trade exhibit for packaging industry, is back after three years of hiatus due to the pandemic.
Over 250 packaging companies from 25 countries participated in this year's exhibit happening from Feb. 1 to 3. (PNA)