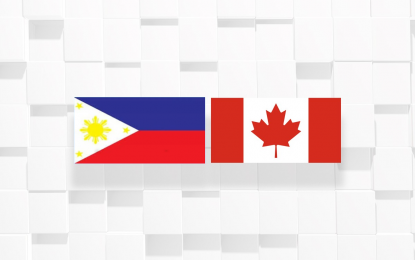 MANILA – The Canadian government is hoping to finalize and sign a defense cooperation deal with Manila on the margins of the Shangri-La Dialogue in June, the Canadian Embassy in Manila said Wednesday.
A senior embassy official who presented Ottawa's new Indo-Pacific Strategy (IPS) on condition of anonymity during a briefing in Makati, said the memorandum of understanding would serve as a framework to improve defense relations stalled by disagreements during the past administration.
"We have not had a deep defense relationship and opportunities to build that relationship were interrupted by disagreements between the two countries on issues like human rights, etc," he said.
"We have a new opportunity so we are negotiating that—both sides see an enormous potential and value," he added.
Canada, the official said, is looking for opportunities to increase its participation in exercises in the absence of a Visiting Forces Agreement or a Status of Visiting Forces Agreement similar to what Manila has with the United States or Australia.
Once finalized, the MOU would cover expanded security partnerships, possible military exercises and training and capacity building, among others.
The official said the Armed Forces of the Philippines is interested in a range of different training and Canada is ready to evaluate this in line with the IPS, which places importance to the Philippines as a vital partner in the region.
"We're prepared to evaluate and look at that. And we were allocating resources to be able to do more in this part of the world," he said.
Aside from defense, Canada looks forward to enhancing maritime cooperation with the country.
Manila has recently proposed a maritime dialogue, which the official sees as timely given the IPS's launch in November 2022.
The official said the mechanism is being studied and would be "wide-ranging" to cover environmental protection, oil spill mitigation, maritime safety and fishery stock management.
'Increased presence'
Canada plans to increase presence in the region through the 2.3 billion Canadian dollar IPS, spanning from peace and security initiatives to strengthening economic ties across the region.
In the said briefing, the official said Canada would also work with partners to push back against any unilateral actions that threaten status quo in the East and South China Sea, including the Taiwan Strait.
Beijing, Manila and other neighboring nations have overlapping claims over the vast and resource-rich South China Sea.
The official highlighted that Canada's approach to China would be "inseparable" from its broader IPS and it would challenge the rising power "when we ought to" and cooperate with them when they must.
"China is looking to shape the international order into a more permissive environment for interests and values that increasingly depart from ours. And China's rise as a global actor is reshaping the strategic outlook of every state in the region, including Canada," the official said. (PNA)