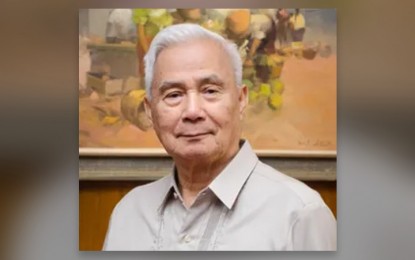 DUMAGUETE CITY – National scientist Dr. Angel C. Alcala passed away on Wednesday afternoon at a hospital in this capital city at the age of 94.
Alcala, considered the "father" of marine protected areas (MPAs), was the vice chairperson of the Silliman University Board of Trustees at the time of his death.
He was appointed as the 9th president of Silliman University in 1991 but served only for two years after he became the Department of Environment and Natural Resources (DENR) secretary during the administration of then President Fidel Ramos.
President Benigno Simeon Aquino III conferred on Alcala the Order of National Scientist of the Philippines award in the field of Biological Sciences for his research work on amphibians and reptiles, marine biodiversity and marine protected areas.
Alcala also served as the Commission on Higher Education chairperson until 1999.
He established the Silliman University Marine Laboratory in 1974, which is now known as the Institute of Environmental and Marine Sciences.
The national scientist founded the Angelo King Center for Research and Environmental Management at Silliman University.
In 1992, he was a recipient of the Ramon Magsaysay Award for "pioneering scientific leadership in restoring and protecting coral reefs" in the Philippines.
He pioneered the establishment of no-take marine sanctuaries and community-based coastal resources management, especially in the world-renowned dive destination, Apo Island in Dauin town, Negros Oriental province.
Alcala is survived by his wife of 70 years, Naomi Lusoc Alcala, and the families of their children, Angelo, Estrilda, Moses, Emily, Grace and Ely. (PNA)