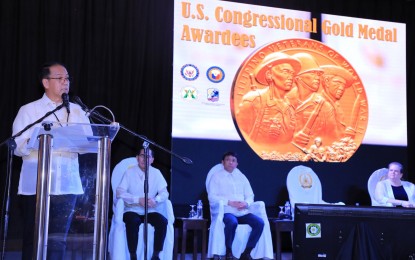 MANILA – Department of National Defense (DND) Secretary Carlito Galvez Jr. expressed his appreciation to the US government for honoring the Filipino World War II veterans which was highlighted by the 22nd United States Congressional Gold Medal (CGM) Awarding Ceremony last Tuesday.
The event, which served as a testament to the shared history and enduring partnership between the Philippines and the US, was held at Camp Aguinaldo, Quezon City.
"The DND expresses its deepest gratitude to the US government for honoring our war veterans. They are living symbols of the shared history and strong bond between our nations," Galvez said in a statement Wednesday night.
He also added that Filipino World War II veterans deserved the highest recognition possible for their gallantry and service.
"Our veterans are heroes in the truest sense. They deserve the highest form of recognition for serving in various capacities and fighting shoulder-to-shoulder with our American soldiers during the Second World War," Galvez said.
A total of 38 Filipino World War II veterans were awarded during the ceremony.
Of the awardees, 23 of them personally received their medals, while 15 were awarded posthumously. Four of the awardees were also centenarians.
"It is remarkable and even more inspiring that despite their advanced age, some even stood up and walked to receive their CGM, including Private Arturo F. Coronel of the Mariano Ponce's Regiment, who is now 100 years old," the DND chief said.
Galvez also thanked Philippine Veterans Affairs Office (PVAO), led by its administrator Undersecretary Reynaldo B. Mapagu, for its outstanding work, as he called on the agency to continue protecting and promoting our veterans' welfare.
Since 2018, the PVAO has conducted 22 awarding ceremonies not only in Metro Manila but in other provinces.
A total of 628 veterans have been recipients of the US CGM awards.
"Congratulations on today's (Jan. 31) successful and heartwarming recognition ceremony," he said.
"I also thank the hardworking team in PVAO for continuously and excellently serving our veterans and their beneficiaries by delivering the benefits, healthcare assistance, and scholarships they rightfully deserve. Your dedication to your duties shall ensure that our nation will never forget the lessons from our history," he added.
Galvez, likewise, recognized the legacy of veterans, many of whom have children and grandchildren who chose to pay it forward by becoming public servants.
"I have no doubt that our veterans ignited their desire to become part of the government to serve our people and our communities across the country. Looking back, the stories of selfless service and sacrifices of our forebears inspired me and ultimately influenced my decision to join the Philippine military and later on, help push forward the comprehensive Philippine peace process," he added.
Meanwhile, Mapagu underscored the importance of conferring the awards to as many of the country's living veterans as possible.
"We, in the PVAO, along with our partners in the Filipino veterans community, various veterans organizations and local government units, will continue to work hard to make this happen," the PVAO administrator said.
Mapagu said they have fought for the rightful recognition of Filipino veterans for many years. He added that they continue to do so because this is the least they can do for these heroes.
Galvez also thanked former DND Secretary Delfin N. Lorenzana and the people behind the Filipino Veterans Recognition and Education Project, who initiated the legislation that provided for the US CGM awards to Filipino veterans.
"Its success is a testament to what the Filipino-American Veterans' Community can achieve when united for a noble purpose," he added.
Deputy Chief of Mission of the US Embassy in the Philippines, Heather Variava, also paid tribute to the Filipino veterans.
"The Congressional Gold Medal ceremony takes us back in time to remember the contributions of our soldiers and how they overcame the adversities of war," she said.
"Your stories are true testaments of lasting patriotism and bravery. And they are an indelible marker of an enduring relationship between our countries."
Galvez noted that the CGM awarding ceremony is timely considering the arrival of US Secretary of Defense Lloyd J. Austin III in the Philippines. Their scheduled bilateral meeting, he said, is a testament of the strong and enduring ties between the two nations.
"As a fellow product of the United States Army Infantry School at Fort Benning in Georgia, I look forward to meeting with Secretary Austin and discussing how our respective defense departments can further strengthen our collaboration," Galvez said.
"The United States has long been our country's partner during crises, especially in providing humanitarian assistance and disaster relief to Filipinos during calamities," he added.
He is hopeful that the meeting will open up more avenues for the two countries to pursue stronger and more strategic joint defense capabilities.
"We are looking at expanding our training and activities with our allies through exercises such as the Balikatan," Galvez said.
He added the DND intends to continue building on the ironclad partnership with its US counterparts. (PNA)