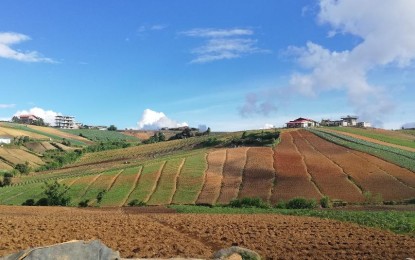 BAGUIO CITY – The Department of Agriculture in the Cordillera Administrative Region (CAR) , through its Agricultural Training Institute-National Training Center (ATI-NTC), is strengthening efforts to allow farmers and fishers to command the prices of their produce by putting them into clusters.
ATI-NTC Cordillera director Charlie Sagudan said in a media interview on Wednesday that through their Farm and Fisheries Clustering and Consolidation (F2C2) program, agricultural products that come in small quantities will be put together in clusters to allow farmers to have a better say on their prices.
It will also prevent the dumping of produce at a single time that causes prices to drop when produced at the same time, Sagudan added.
"Ang challenge is kanya-kanya ang marketing ng products, walang organized group. By organizing them into clusters, we will be able to demand competition and raise the markup," Sagudan said.
The pilot project in the Cordillera involves three farmers' organizations in Barangay Balili in Mankayan, Benguet, which is the province's third biggest producer of assorted highland vegetables.
He said that under the F2C2, the delivery of supplies are timed to allow farmers and fishers to come up with a certain quantity desired by their clients. With a timing of harvest, continuous production of the commodity is assured, she said.
"This will also allow the farmers to give the market time to breathe and not dump all the produce at the same time," Sagudan said.
He said based on their experience, an over-supply leads to a drop in the prices of the commodities, causing losses or leading to a breakeven situation among the farmers.
"If they can sustain the supply based on the required schedule using the production of their members, then they can also demand the price. The practice of taking chances to gain or lose will also be avoided but assuring a constant gain," he said.
"At the end of the process, there are no sales because while the farmers produce good quality products, they leave the marketing to the trader that aims for higher gain and which at times causes the deterioration in the quality [of the produce]," he added.
He said that the role of the ATI-NTC is to capacitate the farmers not only on the production but also on the marketing side.
Sagudan also lauded the provincial government for creating the Benguet Agriculture Code that will mandate crop programming among the town's farmers.
"If we do not do this, it will be the farmers who will be left behind. Let us remember that the competition is there, locally and globally and we have to adapt to the changing time. We do not only talk about production now, but also marketing of the produce," he said.
Sagudan said farmers need to undergo training on organization development, leadership and financial literacy to level their skills up. (PNA)