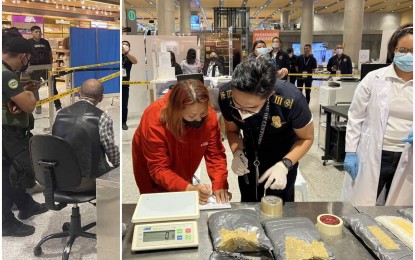 CEBU CITY – A South African national believed to be a "drug mule" is now facing charges after he was intercepted at the Mactan-Cebu International Airport (MCIA) and seized from him 17.6 kilos of suspected "shabu" worth PHP120 million on Wednesday night.
Collector Gerardo Campo, subport collector of the Bureau of Customs-Mactan, identified the passenger as Pietro Aliquo.
Details of Aliquo's identity are under investigation but MCIA records showed that Aliquo flew into Cebu from Doha, Qatar.
"The Passenger Service received derogatory information about a person carrying a suspicious object. Upon receiving the derogatory info, it was immediately disseminated to the customs officers on duty," Campo told the Philippine News Agency.
Aliquo was carrying with him two pieces of luggage and a briefcase.
X-ray Inspection Project (XIP) personnel of BOC-Mactan found that the two pieces of luggage seemed suspicious and were immediately marked with "X" which the attention of the Philippine Drug Enforcement Agency (PDEA)'s K-9 unit for inspection and assistance.
In a statement, the PDEA-7 Airport Interdiction Unit (AIU) and K9 Unit inspected the luggage along with the personnel of the Bureau of Immigration, Philippine National Police's Aviation Security Unit, National Bureau of Investigation, and MCIA's Emergency and Security Service Department headed by Arthur Dela Rosa.
The drug-sniffing dog "NDD Bulik" alerted his handler of the possible presence of dangerous drugs when the K9 team inspected the briefcase.
"A thorough check of the three items led to the discovery of a total of 10 packs of suspected shabu weighing around 17,699 grams worth PHP120,353,200 in hidden compartments," the PDEA-7 said.
The initial tests on the substances conducted by a PDEA-7 chemist yielded a positive result for dangerous drugs, it said. The seized substances have been submitted to PDEA 7 laboratory for chemical analysis.
Aliquo will face a case for importing dangerous drugs, a violation under Republic Act 9165 or the Comprehensive Dangerous Drugs Act of 2002. (PNA)