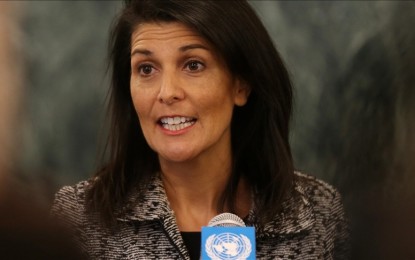 NEW YORK – Former US ambassador to the UN, Nikki Haley, is expected to join the 2024 presidential race, according to media reports.
Haley, a former governor from the state of South Carolina, teased her intention to run in a tweet.
"It's time for a new generation to lead," she wrote. "My family and I have a big announcement to share with you on February 15th! And yes, it's definitely going to be a Great Day in South Carolina!"
Haley is expected to be the first Republican to challenge former President Donald Trump who announced his presidential bid in November.
She is the daughter of Indian immigrants and served as South Carolina's first female governor from 2011 to 2017
She resigned from her UN post in December 2018 after serving two years in the Trump administration. (Anadolu)
y