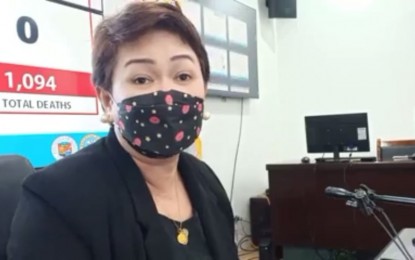 ILOILO CITY – The Iloilo Provincial Health Office (IPHO) is campaigning for an intensified "4S" strategy against dengue while parents are also alerted over the increasing cases of hand, foot and mouth disease (HFMD), both already recorded in 30 of the province's 43 local government units (LGUs).
IPHO's Dr. Maria Socorro Quiñon, in an interview on Thursday, said from Jan. 1 to Jan. 28 this year, the province has already 90 cases of dengue, higher compared with 40 cases for the same period last year.
"We attribute this to the continuous rains, which create breeding sites. So we have an increase in cases," she said.
The health officer added that the continuous dengue transmission in areas where cases were detected last year also led to the rise.
The Provincial Epidemiology and Surveillance Unit identified municipalities with high cases as Estancia with nine; Barotac Nuevo with eight; Cabatuan, six; Ajuy, Alimodian, Balasan, and Carles, with five each; four each in towns of Pototan, Oton, and Calinog; three each in Banate, San Joaquin and Pavia; and Concepcion, San Dionisio, Tigbauan Janiuay, Passi City, Badiangan, Dueñas, San Miguel and Barotac Viejo with two each.
The rest of the cases were from Batad, Dumangas, Lambunao, Sta. Barbara, Anilao, Bingawan, Dingle, and Miagao with one each.
The "4S" campaign stands for Search and destroy mosquito-breeding sites, secure Self-protection measures like wearing long pants and long-sleeved shirts and daily use of mosquito repellent, Seek early consultation, and Support fogging/spraying only in hotspot areas where an increase in cases is registered for two consecutive weeks to prevent an impending outbreak.
"We request our barangays to start their Aksyon Barangay Kontra Dengue. Everyone in the community should participate in cleaning up their surroundings,"
Quiñon said, that the cleanup drive should be purposive to focus on possible breeding sites of mosquitoes.
IPHO has likewise monitored rising cases of HFMD with 674 from Jan. 1 to Jan. 28 compared with only two cases in the same period last year.
The towns with the most cases included Sta. Barbara with 90; Barotac Viejo, 48; Alimodian, 43; Badiangan, 42; Calinog and Leon, 39; Pototan, 37; San Dionisio, 33; Bingawan, 32; and Pavia with 31 cases.
"The HFMD is a very highly contagious. It spreads faster especially that schools, day care centers and child places have opened," Quiñon said.
The disease can be transmitted just by touching infected objects, holding hands, and sharing utensils.
The health officer urged parents not to send their children to school if they have signs and symptoms of the disease such as fever and blisters on their hands, feet, mouth and even their nose until such time they healed.
She also advised frequent hand washing and disinfection of commonly touched surfaces and objects. (PNA)