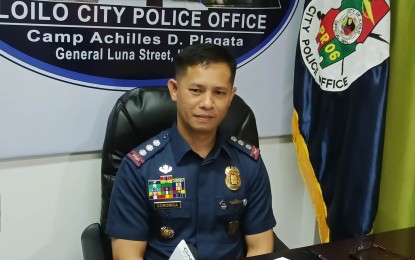 ILOILO CITY – Five of the six station commanders under the Iloilo City Police Office (ICPO) and 14 personnel of the City Drugs Enforcement Unit (CDEU) were relieved on Thursday.
"This is in line with the instructions of our regional director (Gen. Leo M. Francisco) and our city mayor (Jerry P. Treñas). We will be replacing all six station commanders, and all our personnel from CDEU except for one will be replaced," said Col. Joeresty P. Coronica, newly assumed officer-in-charge of the ICPO in a press conference held at their headquarters.
Relieved from their posts were Majors Shella Mae A. Sangrines of ICPO Station 1 (S1) in City Proper, Jose Val R. Ladublan of ICPO S2 in La Paz, Marlyn B. Roquero of ICPO S4 in Molo, Chen E. Tañagras of ICPO S6 in Arevalo and Capt. Benjie Q. Dicen of ICPO S5 in Mandurriao.
Maj. Eduardo S. Siacon Jr. of ICPO S3 in Jaro is the lone official who will be relieved starting on Feb. 3. He was not immediately pulled out from his post as the district celebrated its fiesta on Thursday.
Coronica said the relief of the officers is not drug-related since they are nearing their two-year tour of duty, and other officers will be allowed to lead.
Sangrines was designated as the public information officer of the ICPO, Dicen was reassigned to the Molo Police Station, while the rest have been given posts in various offices at the city headquarters.
All commanders and operatives were vetted and cleared to be assigned to other posts.
"We want to gain the trust of our people and usually they doubt our police. I wanted to erase those issues, that they can easily report to our drug operatives any information that they can give. I always believe that the best information is those coming from the community," the OIC chief said.
Replacing them were Captains Mavin R. Laraño for the City Proper Police Station, Johnna V. Aguil for La Paz Police Station, Lester L. Oliveros for Jaro Police Station and Resty L. Labasteda for Arevalo Police Station.
Lt. Col. Albert H. Sy, the chief of the City Intelligence Unit sits in a concurrent capacity as OIC for the Mandurriao Police Station.
Coronica said the replacements, who are in officer-in-charge status, are also under evaluation and will probably be retained if they perform well, otherwise, they will also be replaced.
All personnel of the Mandurriao Police Station will also be replaced, following an earlier pronouncement by Francisco of being dissatisfied with the performance of the station's personnel.
"This is a message that if you could not satisfy the expectation, there is a tendency that you will be transferred," Coronica added.
For CDEU, 11 new personnel will take over and three more officers are still being scouted to join the unit.
"We have to vet them to ensure that they have impeccable character and they can be trusted not only by policemen and officers but the public," Coronica said.
Coronica, meantime, said that he would like to strengthen the barangay anti-drug abuse councils (BADACs), which are essential in providing information for successful operations. (PNA)