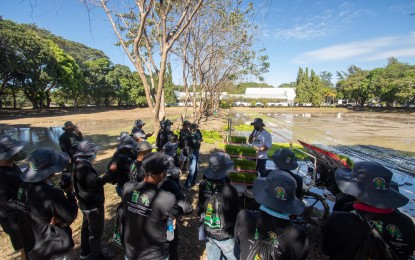 CITY OF SAN FERNANDO, Pampanga – A total of 15 farmers' cooperatives and associations (FCAs) in Nueva Ecija will adopt crop establishment technologies under the Rice Competitiveness Enhancement Fund (RCEF) mechanization program.
Joel V. Dator, director for operations of the Department of Agriculture-Philippine Center for Postharvest Development and Mechanization (DA-PhilMech), said on Thursday the FCAs have expressed their interest in adopting the crop establishment technologies after witnessing the first-hand technology demonstration of the farm types of machinery.
Dator said that although the 15 FCAs are already beneficiaries of the RCEF mechanization program, they have not yet availed of the crop establishment technologies.
He noted that during the demonstration, the DA-PhilMech showcased the different planting settings of the walk-behind mechanical transplanter and the riding-type mechanical transplanter.
"They are willing to undergo training and adopt the technology on the next cropping season," Dator said in a statement.
The DA-PhilMech has been conducting a campaign dubbed "Makinaryang Pantanim: Push Na 'Yan sa Palayan" in an effort to increase the adoption and utilization rate of crop establishment technologies like the mechanical rice transplanters and precision rice seeder among the farmers' cooperative and association beneficiaries of the program.
Based on a survey conducted by DA-PhilMech, the crop establishment technologies record a very low seven-hectare per season utilization rate.
The low popularity of the machines, according to DA-PhilMech, can be attributed to the lack of proper information about and on the use of the machines, posing challenges in seedling preparation, issues with wide seedling spacing and others.
To combat those issues, Dator said seasoned farmer-adopters were invited to relay their personal and effective experiences on the adoption and utilization of crop establishment technologies. (PNA)