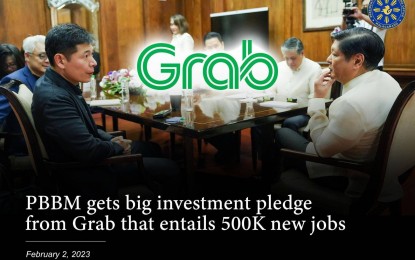 MANILA – Ride-hailing service firm Grab Holdings, Inc. has assured President R. Marcos Jr. that it would open job opportunities benefitting about 500,000 Filipinos, Malacañang said on Thursday.
The commitment was made by Grab chief executive officer (CEO) and co-founder Anthony Tan when Marcos convened a meeting with Grab officials at Malacañan Palace in Manila on Thursday, Presidential Communications Office (PCO) Secretary Cheloy Garafil said in a statement.
Garafil said Marcos and Grab executives led by Tan discussed several initiatives for the modernization of the Philippine transportation system.
"During the meeting, Anthony Tan, Grab CEO and co-founder, promised to create jobs in the country, assuring the President that his company will deliver," Garafil said.
Marcos welcomed Grab's plan to generate more jobs in the country.
"Well, that is what we need. At the very start of all of this, we had always stressed that what we have to do is create jobs right now. Because so many businesses closed, so many people really have no place to go, even the OFWs (overseas Filipino workers). So, we need to find jobs," he said, as quoted by the PCO.
"That's why I'm in a hurry. If we can roll this out as quickly as possible. And I know the way Grab moves, they move very, very quickly. Because you've done it so many times before. In the scale, you don't have to scale it. You've scaled it already."
Tan, Garafil said, assured that Grab would find a way to create more jobs, not just in Metro Manila but also in other parts of the country, including Davao, Cebu, and Iloilo provinces.
During the meeting, Marcos noted that his administration has been able to create nearly two million jobs since he assumed the presidency in June 2022.
The President said Grab's proposal would also have an immediate effect on employment generation and would lead to a further drop in the country's unemployment rate.
"So we've been able to do that (bringing down the unemployment rate) but it's still continuing," he said. "We'd like to keep bringing it down."
Grab, which started operations in the Philippines in July 2013, is proposing the legalization of motorcycle taxis, noting that its pilot test has been operational for four years.
The law prohibits the use of motorcycles to transport passengers or freight.
However, requests to review the policy and allow motorcycles as a form of public transportation have prompted the Department of Transportation (DOTr) to pilot test the operation of motorcycle taxis within Metro Manila and Metro Cebu in 2019.
Congress has to enact a law to create the rule for motorcycle taxis or the two-wheel side after the country adopted a law for four-wheel transport, DOTr officials said.
Various bills were proposed to regulate and legalize the operation of motorcycle taxis as public utility vehicles to ensure the safety and protection of the stakeholders. (PNA)