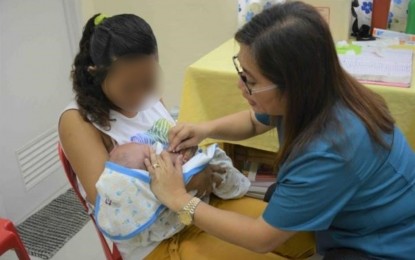 MANILA – The House Committee on Youth and Sports Development on Thursday approved the consolidation of at least seven bills that seek to institutionalize a policy that would prevent teenage pregnancies.
At the hearing, the committee agreed to consolidate House Bills 79, 2062, 2524, 3211, 5559, 6901 and 6964 into one proposal that pushes a comprehensive measure that would make family planning methods accessible to sexually active minors that could eventually address adolescent pregnancies.
In his opening remarks, citing the study conducted by the Commission on Population and Development (PopCom), committee chairperson and Isabela Rep. Faustino Michael Dy III said that in 2019, the Philippines was ranked second among Southeast Asian countries with the highest adolescent birth rate at 5.9 percent in girls aged 15 to 19.
Laos ranked first at 6.33 percent.
He noted that back in 2019, some 2,411 girls with ages 10 to 14 gave birth, observing a continued surge of teenage pregnancies over the past 11 years.

He also cited the 2020 world studies showing that the Philippines has 47 births annually for 1,000 women aged 15 -19 years old, which was higher than the average adolescent birth rate of 44 percent globally and 33.5 percent in the ASEAN region.
Albay Rep. Edcel Lagman, the principal author of HB 79, pointed out that adolescent pregnancies and childbirths account for the high rate of maternal mortality.
"Adolescent mothers should be fixtures of the past but until today, teenage mothers still abound even in progressive and developed countries," Lagman said.
Citing both the National Economic Development Authority and PopCom, Lagman said the teenage pregnancy situation is a "national social emergency" because of the declining average ages of adolescents experiencing early pregnancies and an increase in the number of families headed by teenagers.
He said due to early pregnancy, young girls fail to finish at least basic education. They lack adequate skills for remunerative work and are economically vulnerable, thus perpetuating inter-generational wealth.

He further added that adolescent pregnancies negatively affect the economy with a yearly average of PHP33 billion in forfeited revenues due to "lost opportunities and foregone savings" consequent to early childbearing.
"Legislating a comprehensive law on preventing adolescent pregnancy is imperative to institutionalize policies and strategies on eliminating or mitigating adolescent pregnancy, and extend social protection to adolescent mothers and their infants," he said.
This, he said, would save young girls from maternal death, unemployment and poverty, and at the same time would improve their future and reinforce their self-esteem.
Sustained cost-effective strategies to reduce and prevent pregnancies among adolescents will be pushed. This will serve as a national framework for interagency and inter-sectoral collaboration and resource allocation at all levels to address the various health, cultural, socio-economic, and institutional determinants of adolescent pregnancy.
The bill also proposes the development of community-based and culturally-sensitive comprehensive adolescent sexuality education (CASE) for adolescents belonging to indigenous people, persons with disabilities, out-of-school youth, children in conflict with the law, beneficiaries of residential social welfare services, and other marginalized groups.
It also provides that the CASE curriculum shall be a compulsory part of education, integrated at all levels of learning with the end goal of normalizing the discussion of sex and gender, adolescent sexuality, and reproductive health, and removing the stigma on the discussion of these topics.
Access to information and services on modern family planning methods with proper counseling by trained service providers shall be provided to adolescents following a rights-based approach in public and private health facilities, including Teen Centers.
Priority shall be given to adolescents who are already sexually active or have previously engaged in sexual activities. (PNA)