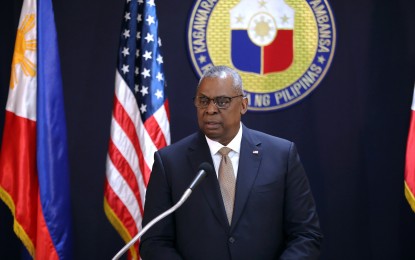 MANILA – The United States is not interested in building permanent bases in the Philippines.
US Defense Secretary Lloyd Austin III made this clarification following the earlier announcement of the Department of National Defense (DND) and US Department of Defense that they have agreed to designate four new locations as Enhanced Defense Cooperation Agreement (EDCA) facilities
"In terms of EDC locations, I just want to be clear that we are not seeking permanent basing in the Philippines, as you heard us say in our statements, EDCA is a collaborative agreement that enables rotational activities," he said in media briefing shortly after his meeting with DND Secretary Carlito Galvez Jr. Thursday afternoon.
He also said these EDCA locations are a key pillar of training and opportunities to strengthen the interoperability of both Philippines and US forces.
"It also provides us the ability to respond effectively to humanitarian issues and also disaster relief and other types of crisis, not just for the Philippines but for the regions we are at," Austin said.
In the same press conference, Galvez said these four new EDCA locations would be revealed once they have finished consulting with the local communities where these facilities would be located.
"The President wanted that all actions will be consulted with our local governments and wanted also to see that these agreements of the four EDCA sites will be finished, " he added.
Finalized after eight rounds of talks in August 2013, the EDCA which was signed in 2014 allows US troops access to designated Philippine military facilities, the right to build facilities, and preposition equipment, aircraft, and vessels, but rules out permanent basing.
Under the EDCA, the Philippine government is working with the US to build the future facilities in Cesar Basa Air Base in Floridablanca, Pampanga; Fort Magsaysay Military Reservation in Nueva Ecija; Lumbia Airfield in Cagayan de Oro City; Antonio Bautista Air Base in Puerto Princesa City, Palawan; and Benito Ebuen Air Base in Cebu province.
PH needs more heavy, medium-lift capability for disaster response
Asked what capabilities are needed to boost the Armed Forces of the Philippines (AFP), Galvez said the military needs more heavy and medium-lift capability to boost its disaster response missions.
"I believe it's more on the (heavy and) medium-lift capability like what we have bought for our disaster relief and search and rescue operations," he added.
Galvez said this means more C-130 cargo transports and S-70i "Black Hawk" helicopters which the AFP has already configured for search and rescue missions.
Aside from this, the DND chief said the AFP needs more assets to defend the country's maritime domain.
This includes the capability to detect submarines in the West Philippine Sea, Galvez said. (PNA)