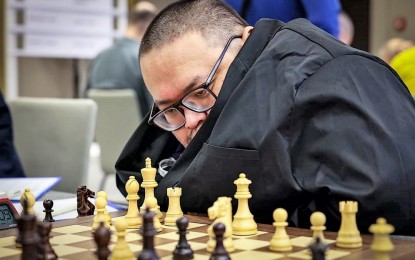 MANILA – Sixth-seeded Philippines bowed to top-ranked Poland, 1.5-2.5, on Wednesday and fell into a tie for third place after four rounds in the FIDE Chess Olympiad for People with Disabilities at the Crown Plaza Hotel on Wednesday in Belgrade, Serbia.
National Master (NM) Henry Roger Lopez bowed to FIDE Master Marcin Molenda after 53 moves of Slav defense on board two, while playing coach NM James Infiesto lost to Pawel Piekielny after 69 moves of French defense on board three.
NM Darry Bernardo managed to win over International Master Piotr Dukaczewski after 51 moves of Caro Kann defense on board four while FIDE Master Sander Severino drew with Grandmaster Marcin Tazbir after 14 moves of Tarrash defense on board one.
The Philippines, Israel, Cuba, Uzbekistan and the International Association of Chess with Physical Disability (IPCA) have identical six points.
Poland, the winner of the 2020 Online Olympiad, is on top of the standings with eight points followed by India, which has seven points after a 2-2 standoff with Hungary.
In other results, Israel defeated FIDE, 3.5-0.5; Cuba prevailed over Bangladesh, 2.5-1.5; IPCA downed Serbia 2, 3-1; Uzbekistan outplayed Serbia 1, 2.5-1.5; Turkey demolished ICCD, 4-0; Croatia beat Kyrgyzstan, 3.5-0.5; Czech Republic trounced Venezuela, 2.5-1.5; Romania won over Montenegro, 2.5-1.5; Germany clobbered Zambia, 3.5-0.5; Kazakhstan whipped Zimbabwe, 3.5-0.5; and Panama outclassed Kenya, 3.5-0.5.
The Philippines will next meet Israel, represented by GM Yehuda Gruenfeld, IM Andrei Gurbanov, FM Alexey Streltsov and WFM Aleksandra Aleksandrova. (PNA)