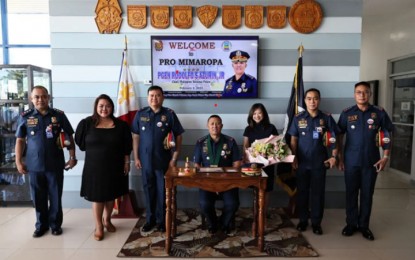 CALAPAN CITY, Oriental Mindoro – Philippine National Police (PNP) chief, Gen. Rodolfo Azurin, has lauded Police Regional Office (PRO) Mimaropa for keeping its status as one of the three safest regions in the country.
Azurin commended the recognition given by the local government units, stakeholders, and the community on PRO-Mimaropa's ongoing anti-criminality and counter-insurgency campaigns, which resulted in a 5.24 percent reduction in its 2022 crime volume.
This helped "maintain its status as the Top 3 safest region all over the country and the successful surrender of more than 180 communist rebels in the region," Azurin told members of the regional police during his command visit at Camp BGen Efigenio C. Navarro in Barangay Suqui on Thursday.
He also applauded PRO-Mimaropa's leadership "for heeding the call of the Secretary of the Interior and Local Government (Benjamin Abalos) for courtesy resignation in a bid to cleanse the ranks of the organization with rogue police officers who involved themselves in illegal drugs."
"We are all aware of the present challenges that the PNP is facing, and we believe that the issues we are going through define the implementation of real and lasting transformation that the organization needs," he said.
Brig. Gen. Sidney Sultan Hernia, PRO-Mimaropa director, vowed to sustain the peace and order accomplishments of the PNP in the region.
"We will strive hard to continue to work together as one to maintain the successes that we achieved in the previous year," Hernia said.
Azurin also cited the PNP's commitment to the Revitalized PNP Kasimbayanan (RPK) to synergize the partnership with various community and religious leaders to bring about a holistic transformation of the PNP organization and the community it serves and protects.
He said the achievements of PRO-Mimaropa "is a testament to the effective enforcement of laws and the good relationship (among) the triumvirate of police, church, and community."
The RPK was launched countrywide on Sept. 26, 2022. (PNA)