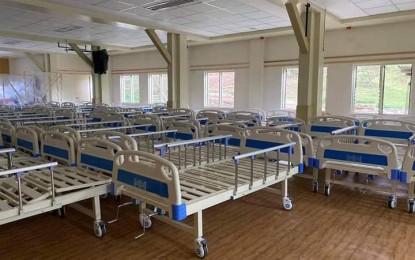 BAGUIO CITY – The local government has decided to stopped the operation of all city-managed coronavirus disease 2019 (Covid-19) isolation facilities as these have remained empty for the past few weeks now.
Aileen Refuerzo, chief city information officer, on Friday said the Baguio City Community Isolation Unit (BCCIU) at the Sto. Nino Hospital ended its operation starting Feb. 1.
She said the cessation of operations of the BCCIU was decided after the facility did not receive new admissions for Covid-19 cases in the past two weeks.
The BCCIU is an isolation facility that houses more than 300 beds and used to be the old hospital that was closed down by the owners in early 2000.
As early as the last quarter of 2022, the city government also started winding down operations at small facilities catering to Covid-19 patients. It also went on to close the triage facility at the Baguio Convention Center compound.
Refuerzo said the closure was based on the recommendation of the City's Health Services Office (CHSO) which provides the manpower and manages the Temporary Treatment and Monitoring Facilities (TTMFs).
With the closure of the city government-managed facilities, he said barangays have been ordered to assure that they have a ready facility for their residents who will be needing TTMF services or cannot isolate at home.
The order to the villages was part of the compliance with the Department of Health Administrative Order 2021-0043 titled, "Omnibus Guidelines on the Minimum Public Health Standards for the Sale Reopening of Institutions," which states that asymptomatic and mild cases should be admitted and isolated in TTMFs, community-based facilities or in their homes as long as they meet the criteria for home quarantine or isolation.
The city government has also started to distribute to the barangays and the different government agencies the beds and beddings used at its isolation units.
City health officer Rowena Galpo, in an earlier statement, said their office is willing to provide the technical assistance needed in setting up barangay isolation units. (PNA)