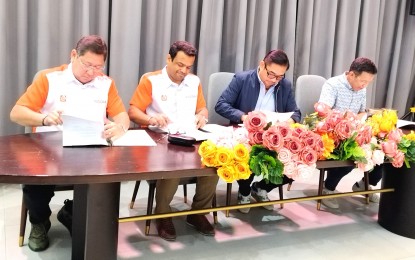 CITY OF SAN FERNANDO, Pampanga – A production plant that turns rice husk into a soil enhancer will operate soon in Nueva Ecija province.
The provincial government led by Governor Aurelio Umali, and the Singaporean renewable energy and carbon projects developer, Alcom Pte Ltd., led by its founder and president Prateek Tiwari, have forged a partnership for the establishment of the plant using the grain drying facility in Palayan City.
The joint venture agreement for the "Nueva Char, A Philippine Biochar Project was formally signed last Feb. 1 in a ceremony held in Santa Rosa, a first-class town in Nueva Ecija.
Umali, in a radio program on Friday, said they found the project to convert rice husks to biochar viable as this could provide additional income for the farmers through the sale of rice husks.
Likewise, the governor said farmers will benefit from the application of biochar for improving soil quality, thus resulting in increased yields.
Aside from these, he said the project will also address various concerns, including environmental protection, preservation and taking care of nature.
"This is a very important piece in the history of our province because we also partner to protect our environment," he said.
Biochar, according to Alcom's literature, is a high-carbon form of charcoal that is produced by heating organic matter at extremely high temperatures and in the absence of oxygen. The process is called pyrolysis.
Organic matter usually includes wood and agricultural byproducts like palm shells, coco, rice husks/straw, and bamboo as well as manure, Tiwari said.
He said they decided to concentrate on rice husks since these byproducts have the least use in the local setting.
"For the farmers of Nueva Ecija, I think this is a very good tool to amend the quality of soil. In our trials, we used it in onion fields, calamansi, sugar cane, and the results are very positive and encouraging," the Alcom official said . (PNA)