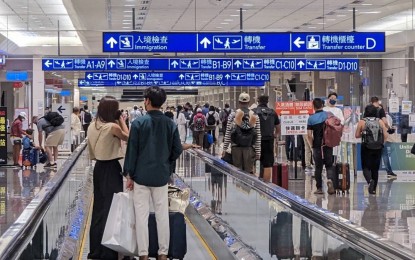 MANILA – Filipinos are among the most favored visitors in Taiwan because they are not frugal spenders when traveling, the Taipei Economic and Cultural Office (TECO) in Manila said Friday.
TECO Representative Peiyung Hsu made the statement as he invited more Filipinos to visit Taiwan and take advantage of its visa-free entry scheme amid border reopening and eased protocols.
"As Taiwan has reinstated the 14-day visa-free program for Filipinos until July 31, 2023, I hope to see more Filipino friends explore the beauty of Taiwan," he said at a tourism workshop in Pasay. "Among all ASEAN (Association of Southeast Asian Nations) countries, you are the most welcome because you spend."
The visa-free entry scheme for Filipinos was reinstated in September 2022 and is set for reevaluation for extension before the end of July 2023.
Meanwhile, Hsu expressed hope that Manila could also grant the same visa-free privilege to Taiwan.
Taiwan, he said, targets to attract at least 300,000 Filipino tourists and encourage about 200,000 of its travelers to visit the Philippines.
"We also wish for the Philippine government to grant Taiwanese visitors visa-free (entry to the country). Now, we pay for the visa, so that's why let's cover these tourists coming to the Philippines," he said.
Hsu said several airlines have been reopening routes between Taiwan and the Philippines, with weekly flights already reaching at least 78, including chartered ones.
China Airlines and StarLux Airlines have recently resumed flights from Taipei to Cebu and vice versa while EVA Air is set to launch daily direct flights between Taipei and Clark starting March 30.
Last month, AirAsia Philippines restarted its Manila-Kaohsiung flight, catering to the rising demand for leisure travel.
Taiwan had been doubling efforts to get more Filipino tourists to visit and try its food, culture, and nature-based destinations.
Also on Friday, the Taiwan Tourism Bureau joined the three-day 30th Travel Tour Expo at the SMX Convention Center. (PNA)