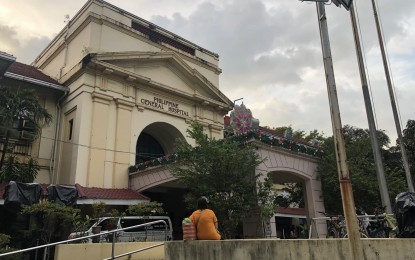 MANILA -- The PHP6-billion Philippine General Hospital (PGH) cancer center could start operating as early as 2025 should the awarding of the contract happen this year.
PGH Special Assistant to the Director Jose Rafael Marfori on Saturday said the construction of the 300-bed capacity hospital could take at least two to three years to finish.
The project, Marfori noted, would be under a build-transfer-operate (BTO) scheme and not build-operate-transfer (BOT) as earlier reported.
This means the center will be turned over to the PGH once construction is complete and the government retains ownership.
In BOT, project ownership is only transferred back to the government after the concession period.
"Immediately after the building is complete and ready to operate, it will be turned over to PGH, the government maintains the ownership as well so there's no privatization," Marfori said during the Saturday News Forum at Dapo restaurant in Quezon City.
Marfori said the investors' and pre-bid conferences are expected to start by February and March 2023, respectively.
The Public-Private Partnership (PPP) project, the first under the Marcos administration, seeks to expand access to "resource-intensive" cancer care in the country and will cater to both charity and private inpatients and outpatients.
"Ang cancer--rich or poor, parang Covid-- hindi namimili. We have to find ways that the whole population can access this care kaya siya nag-PPP (Cancer, like the coronavirus disease 2019, affects everyone, rich or poor. We have to find ways so that the whole population can access this care that's why we turned to PPP)," Marfori said.
The private partner will design, finance, construct, and commission a new standalone hospital building to be located within the University of the Philippines-PGH's Manila campus.
Once built, a minimum of half of all the beds would be dedicated to underprivileged Filipinos.
The UP-PGH will provide all clinical services free of charge for charity patients, with the private sector offering clinical services to fee-paying patients.
The private partner will also provide all major equipment (initial and replacement), undertake maintenance, facilities management as well as non-clinical services (including cleaning, catering, laundry, and security) to the entire hospital under a 30-year PPP concession. (PNA)