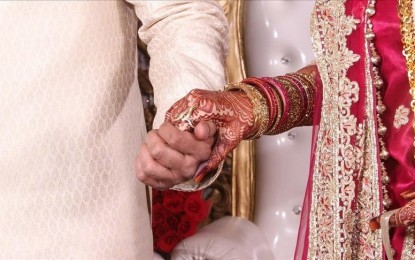 NEW DELHI – More than 1,800 people have been arrested in a massive crackdown on child marriages in India's northeastern state of Assam, an official said on Friday.
Assam's state government, which is led by Chief Minister Himanta Biswa Sarma, last month decided to prosecute men who marry girls under the legal marriage age of 18.
In a tweet, Sarma said arrests are being made across the state of Assam, with officials told: "to act with a spirit of zero tolerance against the unpardonable and heinous crime on women."
He announced a day earlier that authorities will initially focus on 4,000 underage marriage cases registered in the state over the past nine days.
Hindu priests and Muslim clerics who solemnized child marriages will also be targeted in the crackdown, Sarma said.
Cases involving girls under the age of 14 will be filed under the Protection of Children from Sexual Offences Act, while those where girls between the ages of 14 and 18 fall under the Prohibition of Child Marriage Act.
According to a government survey in 2019, nearly 32 percent of girls in Assam were married when they were younger than 18, while almost 12 percent had already given birth by that age.
The eastern state of West Bengal was found to have the highest rate – 41.6 percent – of child marriages in the country.
Child marriages are "more of a social custom in Assam," according to Rajib Sharma, head of the Global Organization for Life Development, an NGO based in the state.
"We are dominated by tribal groups, tribes and minorities, and they marry their daughters at a young age," he told Anadolu.
"Poverty, illiteracy, and a lack of government action are also among the reasons for early marriages in Assam," he added. (Anadolu)