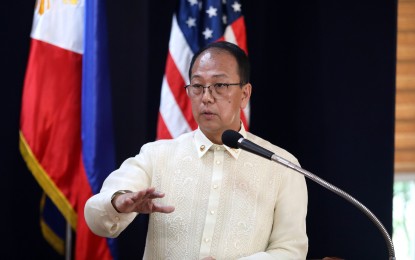 MANILA – Department of National Defense (DND) officer-in-charge Secretary Carlito Galvez Jr. on Saturday allayed fears over plans to add new Enhanced Defense Cooperation Agreement (EDCA) sites in the Philippines, saying these facilities would not only boost the country's security but also spur the economy.
Galvez issued this statement Saturday following concerns over the DND and the US Department of Defense's agreement to designate four new locations as EDCA sites early this week.
"I must stress that EDCA and its implementation, the Armed Forces of the Philippines (AFP) Modernization Program, or the PH-US alliance are directed to modernize our capabilities and collaboration to react to emergencies and protect our maritime and environmental interests. Thus, these EDCA sites should not be a cause for concern for anyone since it could also spur economic investments, joint protection, and preservation of our maritime and natural resources," he said.
He added that every country has the right to develop or improve its defense capabilities.
"At the outset, let me point out that defense capability building is within the sovereign right of every country, and in the pursuit of that right the DND has been and will always remain consistent in its position that all engagements with the US, as well as other foreign partners, must be conducted in accordance with the Philippine Constitution and other national laws," he added.
Galvez added that the EDCA with the Americans was created to further improve the capability of Philippine facilities in responding to disasters and emergencies.
"Thus, with that in mind, the EDCA was primarily envisioned to develop our own bases and facilities in line with our overall efforts to enhance our defense posture, especially our preparedness for responding to disasters and emergencies," the DND chief added.
Galvez earlier said the four new EDCA locations would be revealed once they finish consulting with the local communities where these facilities would be set up.
In cooperation with the US, Galvez said the EDCA will facilitate the construction or upgrade of facilities and infrastructure that will directly contribute to the enhancement of the Armed Forces of the Philippines' (AFP) capabilities, and serve as storage or housing for assets and materiel that will be prepositioned in "agreed locations."
He added this is still subject to prior authorization from the Philippines as specified in the EDCA provisions.
"Prepositioned equipment that will be stored in the Agreed Locations will strengthen our capabilities to immediately deliver humanitarian assistance to disaster-affected areas as well promote more rapid reaction times during disasters, emergencies, or contingencies," he added.
The DND chief also said American Defense Secretary Lloyd Austin III had reiterated that the EDCA is not about permanent basing in the country, which is forbidden by the Philippine Constitution, but rather a collaborative agreement that will give our allies access to training opportunities with Philippine personnel on a rotational basis for the purpose of enhancing interoperability and mutual capacity-building between Philippine and US forces.
Finalized after eight rounds of talks in August 2013, the EDCA which was signed in 2014 gives US troops access to designated Philippine military facilities, the right to build facilities, and preposition equipment, aircraft, and vessels, but rules out permanent basing.
Under the EDCA, the Philippine government is working with the US to build future facilities in Cesar Basa Air Base in Floridablanca, Pampanga; Fort Magsaysay Military Reservation in Nueva Ecija; Lumbia Airfield in Cagayan de Oro City; Antonio Bautista Air Base in Puerto Princesa, Palawan; and Benito Ebuen Air Base in Cebu. (PNA)