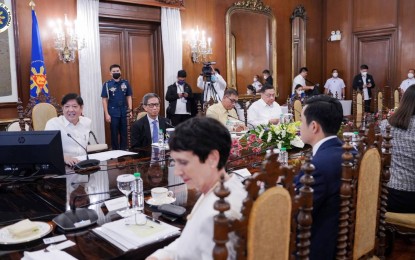 MANILA – President Ferdinand R. Marcos Jr. has welcomed the approval of the construction of a 440-megawatt (MW) solar farm in Ilagan City, Isabela province that is expected to boost the administration's renewable energy thrust and local job generation.
Marcos was elated after officials of the San Ignacio Energy Resources Development Corp. (SIERDC), the main implementer, briefed him on the project in Malacañan Palace this week, according to Sunday's news release from the Presidential Communications Office (PCO).
The Department of Energy greenlit the construction of the solar farm project in December last year.
SIERDC and French-owned Total Eren signed a joint agreement in December last year to invest in the development of the Isabela solar project, with the latter providing financial and technical expertise.
SIERDC is part of the Nextnorth Energy Group, which is developing solar and hydro projects in Northern Luzon.
"The company will begin construction next year on a 400-hectare land in Ilagan City, Isabela, currently being used for sugarcane and bioethanol production. The solar power facility will start its operation by 2025," the PCO said.
According to project proponents, the solar power project could generate around 700 gigawatt-hours per year, which is equivalent to the electricity consumption of around one million households.
"Around 2,200 workers could benefit from the project during various phases of construction and more permanent workers when the facility becomes operational," it added.
Total Eren owns more than 3,700 MW of solar photovoltaic (PV) and wind capacity in operation or under construction and also has over 4,000 MW of projects under development worldwide.
The company likewise has a 60-MW peak solar PV plant in Tarlac.
TotalEnergies, another France-based company, is Total Eren's shareholder which has been operating in the Philippines since 1998.
As one of the world's largest energy companies, TotalEnergies is involved in solar power project development, fuel and lubricants distribution and petroleum logistics and storage in the country. (PNA)