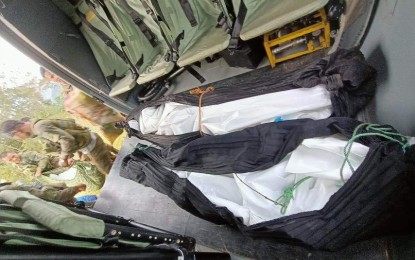 BACOLOD CITY – Joint military and police troops recovered the bodies of three unidentified New People's Army (NPA) rebels and their weapons on Sunday, following a two-day clash in Barangay Oringao, Kabankalan City in southern Negros Occidental.
The casualties resulted from the 20-minute encounter between government forces and a group of 15 rebels in Sitio Bugne around 8 a.m. on Sunday, the Philippine Army's 94th Infantry Battalion (94IB) said in a report.
The first skirmish took place at past 5 p.m. on Saturday when 94IB troops together with personnel of the Philippine National Police's Regional Mobile Force Battalion-Western Visayas and 2nd Negros Occidental Provincial Mobile Force Company responded to the presence of armed men in the remote sitios of the village.
In a statement Sunday night, Col. Orlando Edralin, commander of 303rd Infantry Brigade, commended the 94IB troops for their immediate response to the information given by the locals.
"The bravery you exhibited during the series of security operations in Kabankalan is incomparable," he said.
Edralin also acknowledged the vigilance and cooperation of the residents that manifest their genuine desire for NPA-free Kabankalan City.
Lt. Col. Van Donald Almonte, commander of 94IB, also thanked the locals for providing information to government forces.
"This is a clear manifestation that communist-terrorists are not welcome in Kabankalan," he added.
During the clearing operation, troops found an M14 rifle, .45 and .38 caliber pistols, all loaded with ammunition, along with backpacks, personal items and subversive documents.
"The NPA terrorists are fighting a losing war. Their armed struggle is ending. They must surrender before it's too late," Almonte said.
Kabankalan City Mayor Benjie Miranda said the series of encounters displaced more than 800 residents who have sought shelter in the village covered court since Saturday night. (PNA)