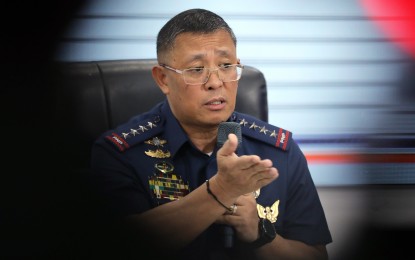 MANILA – Philippine National Police (PNP) chief, Gen. Rodolfo Azurin Jr., left the country on Sunday to represent the Philippines at the 24th Asian Regional Conference of the International Criminal Police Organization (ICPO-Interpol) in the United Arab Emirates (UAE) that seeks to strengthen member countries in the fight against transnational crime.
Azurin would lead the PNP's 10-member delegation to the conference slated from Monday to Saturday.
Joining Azurin are Maj. Gen. Bernard Banac, Maj. Gen. Eliseo Cruz, Maj. Gen. Benjamin Acorda Jr., Maj. Gen. Emmanuel Peralta, Maj. Gen. Jesus Cambay Jr. Maj. Gen. Valeriano de Leon, Col. Redrico Maranan and Col. Reynante Bastian.
In a statement Monday, PNP spokesperson Col. Jean Fajardo said the conference will tackle issues on cybercrime, human trafficking, financial crime, and campaign against terrorism.
The conference is expected to beef up the processes in the exchange of information among member countries to further improve the fight against transnational crime.
"I am honored to lead the Philippine delegation to this important event and be a part of the discussion on how we can further improve our efforts to combat the most pressing crime-related issues facing our region, including human trafficking, cybercrime, financial crime, and terrorism," Azurin said.
"As we celebrate Interpol's centenary, it is more crucial than ever that we come together to strengthen our collaboration and global efforts against transnational crimes. The Philippines is committed to playing its part in achieving this goal," he added.
Azurin would present the response of the Philippines to the challenges brought about by human trafficking and migrant smuggling on Tuesday, the second day of the conference.
The Philippines is the lead shepherd in the ASEAN Senior Officials Meeting in Transnational Crime (SOMTC) Working Group on Trafficking in Persons which is the permanent mechanism for monitoring and reviewing the implementation of the ASEAN Convention Against Trafficking in Persons, especially Women, and Children (ACTIP).
The conference agenda also includes discussions on operational cooperation, enhancing policing capabilities, and priority crime areas with a focus on trafficking in drugs and countering terrorism along with an assessment of the state of police cooperation and international efforts against cross-border crimes.
"I look forward to sharing our country's experiences and learn from our international counterparts as we strive to make our communities safer and more secure. This conference is a testament to Interpol's commitment to fighting crime and promoting justice, and the PNP is proud to be a part of this noble cause," Azurin added.
The PNP chief earlier emphasized Manila's commitment to strengthening the fight against transnational crime during his participation in the 17th Annual Conference of Heads of National Central Bureaus of the International Criminal Police Organization (ICPO-Interpol) held in Lyon, France in November last year.
He said the conference is among the regular Interpol meetings for member countries to touch base with the global network of police agencies with common interests in combatting transnational and domestic crimes.
Azurin also presented a paper highlighting the recent developments in the PNP campaign against illegal drugs, cybercrime, intellectual property rights violations, transnational crime, and online sexual abuse and exploitation of children. (PNA)