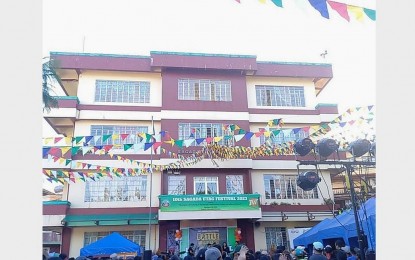 SAGADA, Mountain Province – The local government here is planning to relocate its municipal hall to its 30-hectare property in Sitio Kanipawan, Poblacion, and is inviting national agencies to open satellite offices in the same area for the convenience of their residents.
"We are giving an area, at least 1,000 square meters to government agencies which want to establish their offices here so that our people will also have no difficulty transacting business with them," Mayor Felicito Dula said in an interview during the media tour showcasing new destinations on Sunday.
Under a usufructuary agreement, the government agency can build a structure in the designated area but the title will not be transferred and will remain under the town's ownership.
Dula added that in 2022, the local government obtained from the Landbank of the Philippines a PHP150 million loan payable in 15 years -- PHP75 million for the lot purchase, and PHP75 for the construction of an access road to the property and a new municipal building.
"The property was supposed to be bought by a giant developer company from Metro Manila but residents opposed it and asked that the municipal government to apply for a loan to acquire the property and have it used for the benefit of the residents," the mayor said.
The residents feared that the giant developer would construct a big hotel and put food chains which might "kill" the small family-owned establishments that currently cater to tourists.
The road to the property is now in progress while the municipal engineers are preparing plans for the construction of the building where local government unit (LGU) offices will be moved.
The LGU has also extended invitations to national agencies to have their offices in Sagada to give residents easier access to their services.
Dula said, "offices of agencies interested can just approach us, we are willing to host them."
The mayor added they are looking for a possible investor for a public-private partnership for the construction of a convention center and a sports complex that will enable the town to host big events.
Likewise, local officials have been visiting offices interested to put up an evacuation center and an indigenous housing project at the said place.
To reach the area, Dula said that Mountain Province Lone District Rep. Maximo Dalog Jr. has expressed willingness to help in the construction of a bypass road to the government center without the need to pass through the center which is already crowded. (PNA)