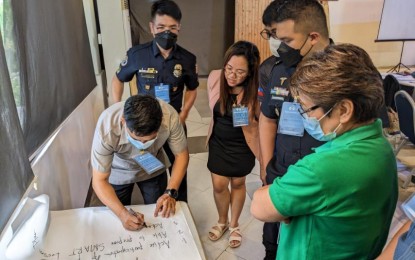 LEGAZPI CITY – The provincial government of Camarines Sur through the assistance of the Office of Civil Defense in Bicol (OCD-5) has conducted training to produce proficient instructors for disaster risk reduction and management (DRRM) capability-building activities in the province.
The training started on Monday at the provincial government complex in Pili town.
In a message to the Philippine News Agency, Gremil Alexis Naz, OCD-Bicol spokesperson, said the five-day Training for Instructors (TFI) is a continuing effort in providing knowledge and strengthening the capacities of the different groups in times of calamities.
"The 38 participants are members of the provincial DRRM council of Camarines Sur and local DRRM officers and have already undergone several DRRM-related training," Naz said.
Topics in the training include communication and platform skills, lesson planning, preparing communicative visuals, methods of instruction, classroom management and group meetings.
Camarines Sur is the first province to lead the conduct of a TFI in Bicol.
Due to its geophysical location, Bicol region is one of the most disaster-prone areas in the Philippines and is annually hit by typhoons, including floods and landslides. (PNA)