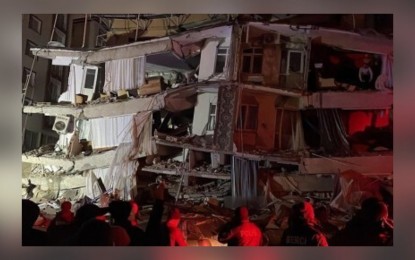 MANILA – No Filipino has been reported among the casualties in the deadly 7.8-magnitude earthquake that rocked the southeastern part of Türkiye and killed at least 76 individuals, the Department of Foreign Affairs (DFA) said Monday.
"The Embassy continues to reach out to the Filipino communities and its other contacts in the region and, as of this writing, has not received reports of Filipino casualties in the provinces of Gaziantep, Hatay, Adana, and Mersin," DFA Spokesperson Ma. Teresita Daza said.
The Philippine Embassy in Ankara, meanwhile, continues to reach out to the Filipinos residing in the country.
Based on the latest DFA data, there are at least 4,006 Filipino nationals in Türkiye, mostly based in Istanbul in the northwest.
Turkish officials said that among the provinces that suffered damage are Gaziantep, Kahramanmaraş, Hatay, Osmaniye, Adıyaman, Malatya, Şanlıurfa, Adana, Diyarbakır and Kilis.
Seismic activity was strong in nearby Syria and tremors were felt as far as Cyprus and Lebanon.
Based on the latest information, officials put the death toll at 76, but that figure could still rise.
The DFA said the Philippines is ready to assist any Filipino affected by the quake and that they may contact the Embassy at +905345772344 and via email at [email protected]. (PNA)