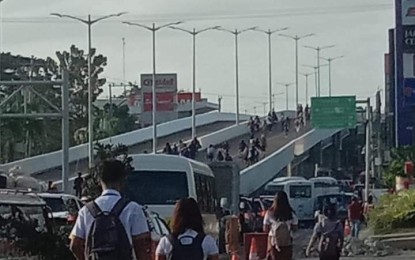 ILOILO CITY – Iloilo City's traffic enforcers will continue to assist in the management of traffic at the Barangay Ungka II flyover in Pavia town amid criticisms on social media following the congestion on Monday morning.
"Businessmen in Iloilo City are complaining to me that their salespeople reported to work late today. We will help out through the PSTMO (Public Safety and Transportation Management Office) to help in the traffic even if our personnel are attacked by some quarters," said Mayor Jerry Treñas in a statement in the afternoon.
Treñas said that he will be waiting for updates from the Department of Public Works and Highways (DPWH) during their meeting at the Regional Development Council (RDC) on Feb. 13.
The traffic was caused by the closure of the portion of the side lane going to Pavia to give way to the clearing operation of the road widening project.
The road widening when completed is supposed to ease the traffic flow since the flyover remains closed due to vertical displacement and up to now is waiting for intervention from the DPWH.
"There are widening works along the sides, which they are trying to catch up on because the deadline that I gave to them was Feb. 14. They have to demolish and construct the road and by Feb 14 that road should already be usable," he added.
Jeck Conlu, PSTMO head, said the contractor asked for the closure of the road on Feb. 4 and 5 but was unable to finish the clearing operation.
The road closure resulted in the long queue of vehicles extending beyond the traffic lights in Barangay Sambag on the part of Iloilo City and Barangay Aganan in Pavia while commuters coming from Pavia passed by the flyover just to get across.
"We stopped the clearing operations and opened the road to traffic. Around 8:30 a.m. the traffic on both sides was already manageable," Conlu added in the vernacular.
The mayor said that it was unfair to blame the traffic aides, especially since the project does not belong to the city government since it is a national project implemented by the DPWH.
"I will not allow anyone to belittle the employee of the city government for something that is not their fault. And if they are willing to fight it out, I am ready to face them," the mayor said in a press conference.
The city government deploys 20 traffic enforcers in the area in two shifts. (PNA)