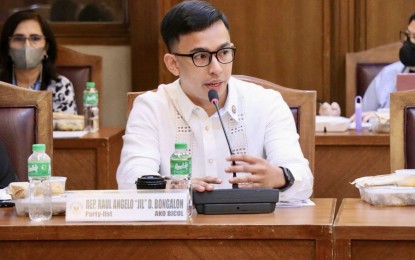 LEGAZPI CITY – A party list lawmaker on Monday pushed for a measure seeking to create a legal scholarship and return service program for students who would want to pursue and become part of the law profession.
Ako Bicol Party-list Representative Raul Angelo Bongalon on Feb. 1 filed House Bill 7035, or an Act amending Republic Act No. 7662, otherwise known as the Legal Education Reform Act of 1993, that seeks to establish the said program by appropriating funds and for other purposes.
In a statement, he said the party list knows the importance of providing free, fast, appropriate and adequate legal services for Filipino citizens.
The bill, Bongalon said, aims to provide opportunities to the people, especially the youth who wish to study law but cannot afford the tuition and other school fees.
"Through this bill, the following benefits will be granted to our citizens who will be subject to the Legal Scholarship--- free tuition and other school fees, allowance for prescribed books, clothing or uniform, dormitory or boarding house accommodation, transportation allowance," he said.
He added that Bar fees, including application fees, will also be given, provided that the same shall only be available for the first two examinations taken, annual medical insurance and other education-related miscellaneous subsistence or living allowances.
In the bill's explanatory note, those who will receive legal scholarship are required to serve at the Public Attorney's Office (PAO) and other branches of the government that need the services of a lawyer within the prescribed number of years after passing the Philippine Bar.
"Through these provisions, we can fill up the lack of lawyers in our country who provide free and quality legal services to our citizens and ensure that everyone has the opportunity to fulfill their dream of studying law and does not carry its weight in their pocket," said Bongalon, who is also a lawyer. (PNA)