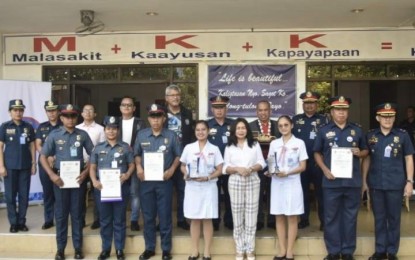 CEBU CITY – Two sophomore nursing students here on Monday received commendations from the Cebu City Police Office (CCPO), recognizing their "heroism" when they performed first aid to a woman who was attacked by his live-in partner while selling fruits on a downtown sidewalk here.
Angyl Faith Ababat and Kristianne Joice Ona, students at the University of Cebu (UC), attended the flag-raising ceremony at the CCPO ground in Camp Sotero Cabahug to receive their award and a plaque of recognition from city police chief, Col. Ireneo Dalogdog.
"We recognized the good deeds of these two nursing students who set a good example to the young generation that you can extend help without hesitation," Dalogdog said in a message.
He said Ababat and Ona are the "best manifestations that anyone can be a hero" by helping others.
The recognition, he said, echoes the message that "the courage to help without hesitation amplifies the truth on the youth's significant role towards nation-building".
On Jan. 30, Ababat and Ona were in the downtown area to buy materials for their school presentation when a man identified later as Edwin Lumacad, 58, slashed the neck of her live-in partner, Bernardita Zamora, 54, in the presence of many people waiting for rides along Plaridel St.
The police said "jealousy" reportedly triggered the attack.
While other people ran away after seeing Zamora holding his blooded front neck, Ababat and Ona attended to the vendor by applying pressure to the wound using a T-shirt.
Zamora is still recuperating in a hospital. Her live-in partner is now in a detention facility while facing charges in court.
Initially, Ababat's act was hailed by netizens as she was the only one wearing a nursing uniform while her classmate and friend, Ona, was not immediately recognized as she was only wearing a P.E. uniform when they rushed to the aid of the injured vendor.
UC's college of nursing dean, Mercy Milagros Apuhin, said in a recent press conference that she is endorsing the name of both students for a scholarship program of the school.
The Cebu City Council is also set to give an award to the students for their bravery. (PNA)