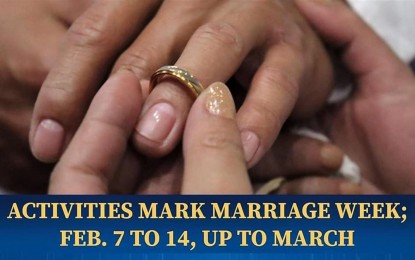 BAGUIO CITY – The city government here is still accepting applications from married couples who have been together for at least 25 years for its citywide renewal of vows set on March 2.
The renewal of vows is an extension of a week-long celebration of "Marriage Week" from 7 to 14 as the city aims to further strengthen family relationships.
Councilor Elmer Datuin, city council's chairman of the social services, women and urban poor committee, on Monday said "the celebration of marriage week is worldwide and the city's celebration is anchored on Ordinance 10-2017 which states that there shall be a mass wedding, marriage counseling, seminars and workshops that must be part of the celebration to further promote the significance of marriage."
He said that several activities aimed at strengthening the marriage bond between couples have been lined up for this year's celebration with the renewal of vows as the highlight.
Applications for the couples wishing to join the ceremony started last week of January. The wedding will be held at the Disaster Risk Reduction Management Office hall of the city government.
Jeterda Junio, city social welfare and development office in charge of the activity, said in a message "couples joining the renewal of vows and marriage activities do not have to pay anything to join."
She added that a simple snack meal will be provided to couples plus the city government will also recognize the most romantic couple and those who continue to be married and stay together for the longest time.
Other activities to be held during the weeklong celebrations are modular sessions on "Family Life Development" from Feb. 10 to 15, a "Marriage Forum" for a stronger family on Feb. 14 which will include couples under the government's Pantawid Pamilyang Pilipino Program (4Ps).
Junio said there will also be film showings, concerts, and other activities even after the weeklong observance to further uphold and strengthen the value of marriage towards a productive Filipino family, and a transformed society. (PNA)