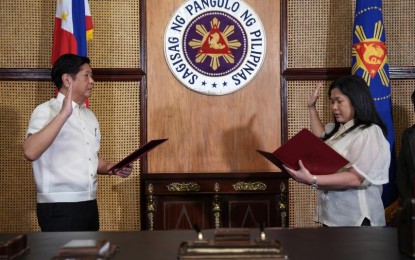 MANILA – Malacañang on Tuesday released the latest appointments in two departments under the administration of President Ferdinand R. Marcos Jr.
Among the new appointments was Mary Lyn Charisse Lagamon who was named as Presidential Assistant I of the Office of the Appointments under the Office of the President. Lagamon's appointment date was Jan. 18, 2023, according to the Presidential Communications Office (PCO).
Marcos also named Vicente Homer Revil as acting administrator and member of the Board of Trustees of the Local Water Utilities Administration (LWUA).
His date of appointment was Feb. 6, 2023, the PCO said.
Revil, former vice governor of Masbate, graduated with a degree in business administration from the University of Santo Tomas in Manila.
He obtained his post graduate diploma in management from the University of Melbourne, Australia, and took his Juris Doctor degree from the Ateneo de Manila School of Law.
Meanwhile, Jovy Bernabe was appointed as an acting member of the LWUA's Board of Trustees.
Bernabe served as the president of the Philippine Crop Insurance Corp.
She was also deputy executive director of the National Agricultural and Fishery Council and board secretary of the Sugar Regulatory Administration.
Bernabe's appointment date was Feb. 6, 2023. Marcos administered the oath of office to Lagamon, Revil, and Bernabe in Malacañang Palace on Monday.
The LWUA is a government-owned and controlled corporation (GOCC) with a specialized lending function mandated by law to promote and oversee the development of water supply systems in provincial cities and municipalities outside of Metro Manila.
It holds office in its own building at the MWSS-LWUA Compound located at Balara, Quezon City. (PNA)