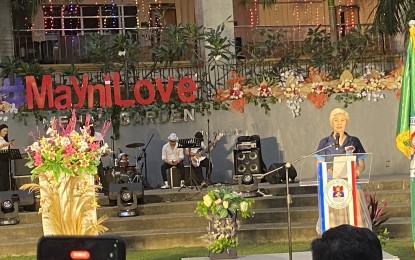 MANILA – Over 30 small and medium enterprises (SMEs) would showcase their respective products at the annual "MayniLove" fair which formally opened to the public on Monday evening.
Speaking at the fair's opening, Mayor Honey Lacuna encouraged her constituents as well as the people from neighboring cities to visit and support the small businesses to be able to rise again from the effects of the pandemic.
"I invite all Manileños to support this project, we will be able to help our small entrepreneurs or those who are starting to recover from the effects of the pandemic," she said.
Lacuna said the people can bring their families and friends to the fair in celebration of Valentine's Day at the Mehan Garden from 4 p.m. to 11 p.m.
The fair which runs until Feb. 17 was organized by the city through the Bureau of Permits and the city's economic development and investment promotions office. Admission to the venue is free.
The booths at the fair sell various items such as clothing, bags, foods, among others.
Visitors can also look forward to live song performances and can take pictures at "Instagrammable" spots. (PNA)