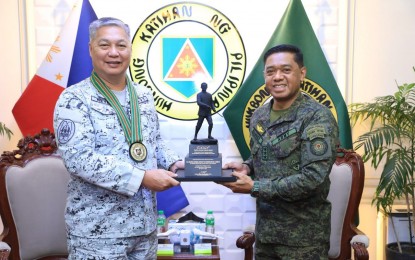 MANILA – The Philippine Army (PA) has rendered honors to outgoing Armed Forces of the Philippines (AFP) deputy chief of staff Vice Adm. Rommel Anthony SD Reyes who retires next month.
These honors were given after Reyes' exit call to PA chief Lt. Gen. Romeo S. Brawner Jr. at the Army headquarters in Fort Bonifacio on Monday.
"Vice Admiral Reyes, who is set to cap his military service next month, thanked the 110,000-strong PA for being a responsive, professional, and committed force provider to the AFP," Army spokesperson Col. Xerxes Trinidad said in a statement Tuesday.
Reyes was appointed AFP deputy chief of staff in February 2022, succeeding Vice Adm. Erick Kagaoan.
He is a member of the Philippine Military Academy Class of 1989 and has a Master's in Public Management major in Development and Security from the Development Academy of the Philippines.
Reyes has specialized in various warfare and staff functions and has held key staff and command positions throughout his sterling career.
Meanwhile, Brawner graced the 53rd founding anniversary of the 4th Infantry Division at Camp Evangelista, Patag, Cagayan de Oro City on Feb. 3.
Anchored on the theme "Sustaining excellence, strengthening partnership," the anniversary ceremony recognized the efforts of all people behind the success of the unit throughout the years.
During the event, Brawner presided over the pinning of the Institutionalized Status of the 26th Infantry Battalion, which exhibited exemplary performance in good governance.
He also commended the division's state-building capabilities through the support of the soldiers and stakeholders who always extended their service for the betterment of the community and the country.
"To all the military personnel and stakeholders, please continue supporting your PA and AFP. We need your support and help because if we work together, we will have a better nation," Brawner said. (PNA)