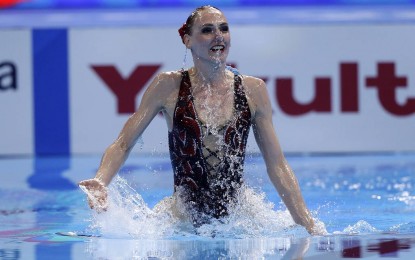 MOSCOW – The world's most-decorated athlete in the history of synchronized swimming, Svetlana Romashina, announced her decision on Monday to wrap up her career.
"I officially announce that today I am ending my [sports] career," the seven-time Olympic champion said in an interview with Russia's Match-TV national sports broadcaster. "I am leaving, but I won't be far from sports because I've decided to stay on with the sports family."
The 33-year-old Russian synchronized swimming star is a 21-time World Champion, seven-time Olympic champion and a 13-time European champion as well as a two-time gold medal winner of the FISU Summer Universiade Games.
The now-retired legendary synchronized swimmer said she might participate in some TV shows and had already taken charge of the Yunost Moskvy synchronized swimming school as head coach.
"Right now, I'm trying to figure out how to cope with all the paperwork, which is extremely difficult, but this is nothing compared to what I did previously when competing in the swimming pool," Romashina, who remained undefeated in all sports tournaments, where she competed, continued.
"However, I try to always be helpful in passing on my experience to the girls enrolled in this school. I'm always at the pool offering help with their programs," she added.
Born in Moscow in 1989, Romashina won her first international gold medal at the 2013 Summer Universiade Games in Russia's Kazan.
After the 2016 Summer Olympic Games in Brazil, Romashina took time off from her sports career and gave birth to a daughter. She returned to sports in 2018 to win more gold medals and to become the most successful female athlete in the history of synchronizing swimming worldwide. (TASS)