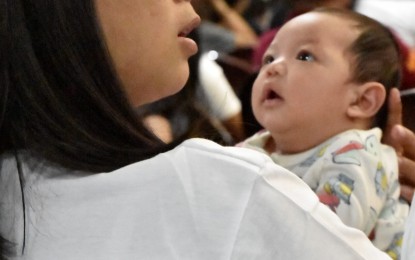 MANILA – Girls aged 10 to 14 getting pregnant is an urgent concern that needs a whole-of-government approach, according to Senator Sonny Angara on Tuesday.
Citing data from the Philippine Statistics Authority (PSA), Angara noted that births to these young mothers have increased every year since 2016 even as the overall birth rate among adolescents has gone down.
The rate of pregnancies among girls aged 10 to 14 has gone up from 11 percent or 1,903 births in 2016 to 2,113 registered births in 2020, based on PSA data.
"Teenage pregnancies have been a concern in the country for some time already. The decline in pregnancies among 15- to 19-year-old girls is welcome news but the fact that more girls who are a lot younger are becoming mothers already is very alarming and cannot be left unchecked," Angara said in a statement.
Angara has already filed Senate Resolution No. 462 seeking an inquiry into the alarming increase of pregnancies among 10 to 14 years old in order to come up with a whole-of-government approach in developing a policy framework to prevent early childbearing and its negative consequences.
Angara, who chairs the Committee on Youth, acknowledged the effort of the administration of former president Rodrigo Duterte in reducing adolescent pregnancies, highlighted by its declaration as a national priority the implementation of programs to address its root causes.
He pointed out that such efforts must be continued.
"A lot more needs to be done to bring down the cases of teenage pregnancies, particularly among the 10- to 14-year-olds. This effort requires a whole-of-government approach and an understanding that this is about caring for the welfare of our children and saving lives," he said.
According to the PSA report, majority of the registered adolescent live births involved men who were three to five years older than the girls.
Even more concerning, Angara noted, was the data on fathers who were more than 10 years older than the teenage mothers, which the PSA data pegged at 6 to 7 percent annually from 2016 to 2020.
Factors
At the hearing of the Committee on Women, Children, Family Relations and Gender Equality also on Tuesday, Senator Robinhood Padilla said one way to counter the problem is to define the limitations of social media, which he said is one of the factors that contribute to the high rate of teenage pregnancies.
He said the youth spend an average of six hours a day online, more than what is required in schools.
"Ang mga bata nakakapanood ng porno dyan. Nakakalungkot [dahil] gusto natin ma-educate. Ano ba talaga ang kalayaan sa social media? Hangga't di nakokontrol, sayang ang panahon. Isa, dalawang oras tayo sa lecture, eh may anim na oras naman ang social media. May mga dating sites pa dyan (Children are free to watch pornography. It is sad because we want to educate them. What are the limitations of social media? Unless we control them, this is a futile exercise. One or two hours are spent for lectures but they are on social media for six hours. They also have dating sites)," Padilla said.
Senator Raffy Tulfo said family values should be strengthened while he also proposed the strict monitoring by schools of their students who can have access to alcoholic drinks and premarital sex.
Health, social effects
The United Nations International Children's Emergency Fund (UNICEF) said early childbearing and delivery can derail a girl's healthy development to adulthood since many of them are pressured or forced to drop out of school to raise their children.
It also cited the negative social consequences on the girls such as a reduced status in their homes and communities, stigmatization, rejection and violence by family members, peers and partners, and early forced marriage.
Since the pregnancies and births are taking place before the girls' bodies are fully developed, UNICEF noted that this is among the leading causes of disability-adjusted life years and deaths among girls.
The Commission on Population and Development (POPCOM) is in charge of implementing Executive Order 141, signed by Duterte in June 2021, which aims to mobilize all government agencies and treat the incidence of adolescent pregnancy as a national priority.
POPCOM is mandated to come up with a comprehensive action plan by convening all concerned national government agencies to address the problem.
It includes the promotion of comprehensive sexuality education for the youth and their parents; strengthening of mechanisms for the adolescents to access reproductive health services; preventive mechanisms against sexual abuse and violence; improving socio-economic conditions; and community activities. (With a report from Leonel Abasola/PNA)