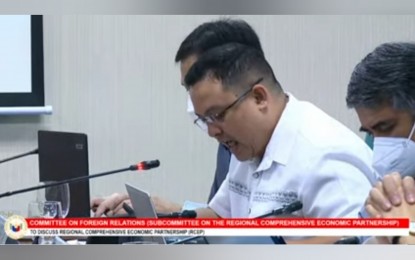 MANILA – An energy official said on Tuesday the Regional Comprehensive Economic Partnership (RCEP) will help the Philippines achieve its long-term plan for energy security while contributing to mitigating the impacts of climate change.
"We are utilizing this agreement to pursue the Philippine Energy Plan that works towards energy security," Department of Energy (DOE) Undersecretary Felix William Fuentebella said during the hearing of the Senate Committee on Foreign Relations on RCEP.
Under the Philippine Energy Plan 2020-2040, the DOE is paving the path in moving toward a clean energy future by pursuing policies that would attract more investments in renewable energy, institutionalizing energy efficiency and conservation programs, and promoting the use of clean energy.
Fuentebella said concurring the regional free trade agreement (FTA) will allow the country to attract more energy investments, which is capital-intensive and would require technology transfer.
"The Department of Energy believes that investments, energy security, and access to technologies are inevitable. Why we have concurred with this agreement is, one, we need investments. It is our view that the energy sector is a capital-intensive undertaking, where Filipino capital may not be sufficient," he said.
He added that having an FTA with developed countries, such as China, Japan, South Korea, Australia and New Zealand, which have advanced technological capabilities in the energy sector, could enhance technology transfer to the local counterparts. These countries are part of the 15 nations that signed RCEP.
The DOE official said their technology will help the Philippines in pursuing its clean energy goals by exploring and utilizing the country's indigenous energy sources.
"International energy cooperation is seen as vital in pursuing collaborative activities with other countries to realize our goal to have self-sufficiency, energy security, and sustainability," Fuentebella said.
The Philippines is the only signatory country in RCEP that has not yet concurred with the FTA.
The Senate is still hearing the position of some industries, especially the agriculture sector, which aired their concerns on the possible negative effects of the regional pact to local players. (PNA)