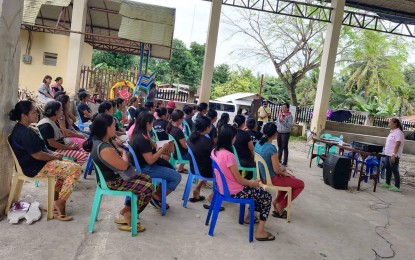 CEBU CITY – Three years since in-person activities were halted by the Covid-19 pandemic, Pantawid Pamilyang Pilipino Program (4Ps) officials have resumed face-to-face "family development sessions" in order to address concerns regarding the conditional cash transfer.
Shalaine Marie Lucero, Department of Social Welfare and Development-Central Visayas (DSWD-7) regional director, said the agency has endeavored to go back to the physical holding of meetings with the potential or actual beneficiaries.
"It's more efficient if we will hold our family development sessions (FDS) face-to-face with the beneficiaries as compared to online sessions, or by just sending them modules through email or any other modes of communication. By talking to them directly, you can get to the bottom of the problem, you can exactly see their non-verbal communication and facial expressions. Confront with them would bear more fruitful engagements," Lucero told the Philippine News Agency in an interview.
Because of the pandemic, DSWD's field office looked for alternative ways in delivering FDS modules to beneficiaries through text messages, social media posts, on-the-air instructions through partner television and radio stations, and printed materials delivered to their homes.
Lucero said in-person sessions this year will focus on the transformative learning path emphasizing the positive behavioral changes expected of the 4Ps beneficiaries through the three learning packages – changes in managing the family; engagement with the public sector; and organizational-based livelihood projects.
She said the topics are mandated under Republic Act 11310, the law that institutionalized the 4Ps.
With the resumption of physical holding of 4Ps-related activities, Lucero said the beneficiaries are expected to acquire or enhance skills and knowledge about their parental roles and responsibilities, as well as on health and nutrition, education, protection, and psychosocial needs of their children.
"We expect the beneficiaries to attend the family development sessions because that is one of the conditions under the 'all-or-nothing' policy. For example, a family is required to undergo vaccination against Covid-19, and visit the health center for a checkup. Even if they complied with it but they failed to attend the FDS, still they won't receive their cash grant," she explained.
Among the concerns that in-person sessions will tackle will be the reported incidents of pawning of Land Bank of the Philippines-issued cash cards.
The 4Ps Law provides that households may receive PHP750 for compliance with the health and FDS provisions, children monitored by the program in the elementary level receive PHP300, while those in junior high school receive PHP500, and those in senior high school, PHP700.
The cash grants are computed on a monthly basis.
The education grants cover only 10 months per school year, benefiting a maximum of three children per household. Each compliant household also receives a rice subsidy of PHP600 per month. (PNA)