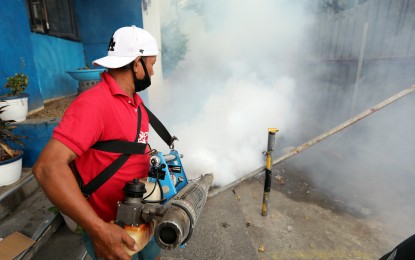 MANILA – The Department of Health (DOH) on Tuesday reported that all provinces in the country have achieved malaria-free status except for Palawan.
The department aims to achieve the malaria-free status by 2030.
"Just this 2022, meron tayong apat na bagong areas na dineclare na malaria-free province, 'yan na po ang (we declared four new malaria-free provinces, these are) Oriental Mindoro, Rizal area, Aurora, and Cotabato," DOH officer-in-charge Maria Rosario Vergeire said in a media briefing.
Vergeire said to be declared free of the disease, a province must log zero local transmission of malaria in the past five years.
Malaria is a life-threatening but curable and preventable disease caused by parasites that are transmitted to people through the bites of infected female Anopheles mosquitoes.
Earlier, the DOH said the incidence of malaria nationwide declined by 87 percent from 48,569 cases in 2003 to only 6,120 cases in 2020.
The DOH is coordinating with the local government of Palawan, the World Health Organization (WHO), and the private association Pilipinas Shell Foundation to help the province become malaria-free.
According to the WHO, 247 million cases of malaria were recorded worldwide, with 619, 000 deaths in 2021.
The DOH said to prevent malaria, the public must be aware of the endemic areas; prevent mosquito bites by wearing long-sleeved clothes and using insect repellants and mosquito nets; get prophylactic treatment when traveling to endemic areas; and seek immediate medical consultation if symptoms of malaria are observed. (PNA)