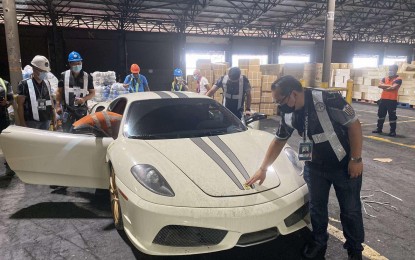 MANILA – It is "reasonable" to impose higher taxes on luxury or nonessential goods, President Ferdinand R. Marcos Jr. said on Tuesday.
In a media interview, Marcos backed Albay Rep. Joey Salceda's proposal to raise the nonessential goods tax from the current 20 percent to 25 percent and expand the list of luxury items.
"So, palagay ko naman (I think), it's reasonable that we will tax the consumption side of those consuming luxury items," he said on the sidelines of the Bureau of Internal Revenue's (BIR) event at the Philippine International Convention Center in Pasay City.
To date, Section 150 of the National Internal Revenue Code imposes a 20-percent tax on the price of jewelry, perfumes and yachts.
Under Salceda's House Bill (HB) 6993, the tax rate on non-essential goods will be adjusted to 25 percent.
HB 6993 also proposes a 25-percent tax on wristwatches, bags, wallets and belts worth over PHP50,000; the sale of real property valued at over PHP100,000 per square meter; beverages above PHP20,000 per bottle; antiques worth more than PHP100,000; paintings over PHP1 million; and brand new or secondhand automobiles worth more than PHP10 million.
Marcos expressed support for the proposed measure, as he stressed the need to expand the coverage of tax imposition to more luxury items.
"I think right now the tax on luxury goods only covers very specific items and luxury goods as those who have put in some study on this know hindi nagbabago ang demand dyan kahit anong sitwasyon (that the demand never changes, whatever the situation may be)," he said.
"For the rest of us who are not necessarily consumers of luxury goods ay randam natin kapag bumagsak ang ekonomiya. Ngunit kung titignan ninyo, 'yung luxury items, mga magagarang kotse, mga designer na damit at saka mga bag lahat, hindi nagbabago ang presyo niyan dahil may kaya ang mga bumibili (we can feel if there is an economic recession. However, the prices of luxury items, including luxury cars, designer bags and clothes remain constant because the rich can afford them)," Marcos added.
Salceda, chairperson of the House Ways and Means Committee, was elated by Marcos' apparent support for his proposal.
He said Marcos' explanation was "right," adding that the proposal to raise the tax on luxury goods will merely have a minimal impact on the sales of the nonessential items.
"Tama 'yung explanation niya na in elastic 'yung demand curve. So kahit taasan namin ang presyo, hindi naman masyadong makakaapekto sa output o benta (His explanation was right that the demand curve is inelastic. So, even though we raise the price, it will not really affect the sales)," Salceda told reporters. (PNA)