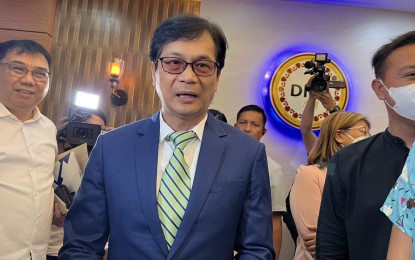 MANILA – Interior Secretary Benjamin Abalos Jr. on Tuesday revealed that retired Court of Appeals Justice Melchor Sadang would complete the five-member committee that will vet the courtesy resignations submitted by third level police officers and look into their possible involvement in illegal drug activities.
Sadang will join Philippine National Police (PNP) chief, Gen. Rodolfo Azurin Jr., retired police general and Baguio City Mayor Benjamin Magalong, Office of the Presidential Adviser on Military Affairs Undersecretary Isagani Nerez and former Defense Secretary Gilbert Teodoro in the committee.
"We are grateful to Justice Melchor Quirino Cabarroguis Sadang for accepting the role as the fifth member of this advisory group," Abalos told reporters in Camp Crame, Quezon City.
Sadang served as a CA magistrate from 2011 to 2017 and a presiding judge of the Cavite City Regional Trial Court from 2000 to 2011.
Abalos said the committee is set to convene on Feb. 13.
"We have opted that they (committee) would be the ones to craft the guidelines. What is important is for us to turn over whatever information, say intelligence reports, that we have on hand. It also includes those from other government offices for them to discuss it," Abalos said in mixed English and Filipino.
In the next three months, Abalos said the committee will conduct an investigation on the police officials and will submit the names of those whose resignations are accepted to the National Police Commission (Napolcom) for another round of verification before submitting their recommendation to the President.
"Titingnan natin kung ano ang kinakailangan but what is important here ay talagang matanggal yung dapat matanggal at yung inosente ay talagang walang matanggal na inosenteng tao (We will see what is necessary, but what is important here is that those guilty should be removed, and no innocent should be removed)," he said.
Abalos said he expects the body to conduct a fair and impartial assessment.
He reiterated that monitoring, investigation and case build-up against other police personnel will continue amid the intensified internal cleansing in the police organization.
The five-man committee was formed as an advisory group that will sort thru the courtesy resignation of the PNP officers ranked Colonel up to General.
The move aims to cleanse the ranks of officers in the police organization from infiltration of illegal drug syndicates. (PNA)