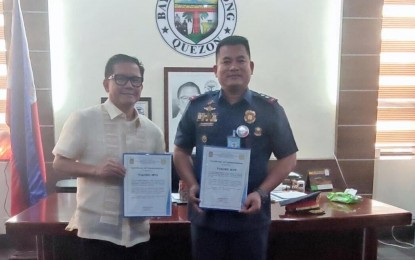 TIAONG, Quezon – Police in this town are in high spirits after ranking No. 1 among the province's 39 municipalities and two cities in drug arrests from Jan. 23 to 29.
Tiaong tied with Lucena City, both with seven drug arrests for the said period, according to Capt. Lovelynn Lalunio, Quezon Police Provincial Office (QPPO) public information officer, in an interview on Tuesday.
Unisan town followed with six arrests.
Meanwhile, Lucena City got the top position in terms of number of drug operations with six successfully conducted, while Tiaong and Tayabas City had five each.
Mayor Vincent RJ Mea said in an interview that he is grateful to the police for maintaining peace and order in the communities.
He said he provided the Tiaong Municipal Police Station with additional mobile cars, had their headquarters renovated and gave them additional computer and printer sets.
"I saw the dismal condition of their headquarters. How can they work efficiently if their surroundings are almost dilapidated and dirty?" Mea said.
He acknowledged that the peace and order of his town improved after the additional provisions were given.
"A peaceful and safe town can attract more investors that ultimately can be beneficial for all my fellow Tiaongins," he said. (PNA)