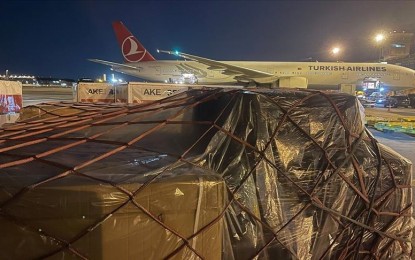 BRUSSELS – Under the European Union's (EU) emergency response mechanism, 27 rescue teams with over 1,150 personnel have been sent to Türkiye in the wake of Monday's powerful quakes, the EU commissioner for crisis management said.
"So far, we've mobilized 27 search and rescue and medical teams from 19 European countries via the EU Civil Protection Mechanism to help Türkiye after the earthquake," Janez Lenarcic wrote on Twitter on Tuesday.
Türkiye is also a member of the mechanism.
The EU member states of Austria, Belgium, Bulgaria, Croatia, the Czech Republic, Estonia, France, Germany, Greece, Hungary, Italy, Malta, the Netherlands, Poland, Romania, Slovakia and Spain all sent teams, along with Montenegro and Albania.
In total, 1,150 personnel and 70 rescue dogs were sent, Lenarcic added.
At least 3,381 people were killed and 20,426 others injured in 10 provinces of Türkiye after two strong earthquakes on Monday jolted the southern part of the country, an official from Türkiye's disaster agency said Tuesday.
The earthquake was also felt in several neighboring countries in the region, including Lebanon and Syria. (Anadolu)