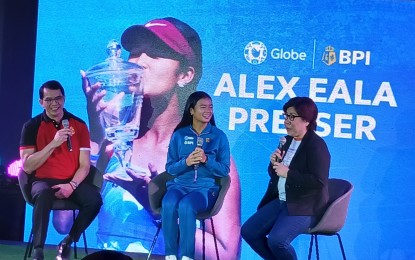 MANILA – Alex Eala's appearance in this year's Southeast Asian Games (SEAG) in Cambodia and Asian Games in China is currently up in the air.
Eala said she would talk with her team first regarding her availability before ultimately deciding if she would play for the national team in the multi-sport events.
"I will have to check if they collide with any of the important tournaments that I'm planning to join this year," she said during a press conference organized by Globe and the Bank of the Philippine Islands at The Globe Tower in Taguig on Tuesday.
The SEA Games, which will run on May 5-17 in Phnom Penh, could coincide with her bid to make the French Open from May 28 to June 11.
"I would love to represent the Philippines in the SEA Games, but it might interfere with the qualification for the French Open," she further said.
Eala, however, also said she would love to make an Asian Games debut in this year's edition in Hangzhou, China from Sept. 23 to Oct. 8 if the schedule permits.
"I would love to try the Asian Games. I've never competed in that yet. I've heard very good stories and experiences from other players," she said.
The US Open will have its final day on Sept. 11 (Philippine time), so barring an accepted invitation to join another pro circuit tournament, she could make the Asian Games.
For now, according to Eala, the immediate goal is to make the French Open, which has been the perennial playground of his mentor, Rafa Nadal.
"My next target right now is to qualify for the French Open," she said. (PNA)